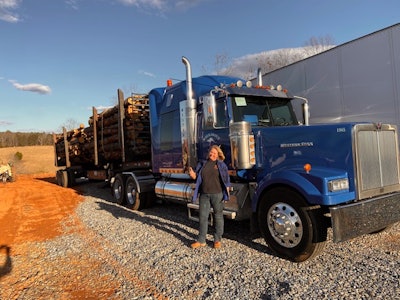 Photos courtesy of Debbie Desiderato
Piloting a wrecker in New York City, car hauling, bumping docks with a van, hauling logs, running hotshot in a Class 3... Virginia-based owner-operator Debbie Desiderato has done it all in her 27 years in the business -- the last 20 as an independent owner-operator.
Originally from Australia, she moved to the United States in 1996 when she was in her early 30s, already with a passion for trucking, and got her first job driving that wrecker in the Big Apple for $5/hour. As she told the story, "The boss threw me the keys to the truck and a map and said, 'Good luck.' I was driving around the streets of New York City, I could barely stay on the right side of the road," given her original home country's left-lane protocol.
In 1999 she got work with a car-hauling company based on Long Island, and became their DOT safety manager handling audits and other safety issues. It was through that company that she was able to obtain her Class A CDL. "They were kind enough to let me use one of their trucks, and I just taught myself," she said.
Desiderato used her experience with that company and struck out on her own with operating authority in 2003. Her success and freight-niche diversity as an owner-operator, along with her advocacy efforts for women in the industry and trucking as a whole, earned her the nod as Overdrive's Trucker of the Month for June, making her a semi-finalist for Overdrive's Trucker of the Year award for 2023.

[Related: Trucking his way: Matthew Karr, May Trucker of the Month, puts out his shingle as K-Mac Trucking]
Independent beginnings
When Desiderato got her own authority, she operated as Classic Auto Transport with her own customers hauling cars across the U.S. She "went for the best customers" she could find, she said. "I got Jaguar, Porsche and Mercedes. I started out in the New York tri-state area, and by referrals, next thing you know I'm branching out farther and farther."
During that time, she got so much work that she couldn't handle it alone, so she leased on another owner-operator. She said she never had the desire to grow beyond just herself "because I kind of just like being small and independent, and only having to worry about myself," she said. About that leased-on owner back then: "Just as I expected, he let me down." She added he "made me look bad in front of customers, and I didn't like that. So I said, 'I'm not doing that again.'"
By about 2010, Desiderato had "really burned out" between operating her car-haul business and helping friends' small fleets with DOT audits as a side gig. She adopted a motto of many an independent and looked out for ways to "work smarter, not harder," and bought an over-the-road sleeper tractor and a dry van. She also renamed her company "Walkabout Transport," by which she's well-known today. "It's a lot easier on your body," she said of van freight, generally. The money's just as good, too, she found, "if you do it right."
Through the years, she's hauled FEMA loads after hurricanes and other disasters. At one time, she subcontracted to haul for a government contractor, moving MREs to military bases along the East Coast. "I found you've got to find your niche in dry van," she said. "That broker board freight is just terrible."
[Related: Walkabout Transport: Hotshot as downsized pandemic refuge]
She was still hauling MREs when the COVID-19 pandemic hit, and "everything just came to a screeching halt," she said. She parked the truck for a couple months to see how everything was going to shake out, but by the time she needed to get back on the road, the military freight wasn't there and she privoted to hotshot work, selling a Kenworth T660 for which she'd been well-known, likewise her dry van.
"I took off and did some machinery and vehicles, running all over the place," she said. "That was fun, but there wasn't enough money in it."
When freight started coming back, she bought her current truck -- a 2017 Western Star 4900EX -- and another dry van trailer. She also purchased another home away from her long-time Long Island residence in the mountains of Virginia around that time, and found that many of her neighbors were in the logging business.
"Next thing you know, I'm pulling a logging trailer," she said. "Half doing van, while logging on the side. I got rid of that hotshot -- it didn't work out very good for me. I went back to van and doing logging when I'm at home. That's pretty much where I am today."
[Related: The big reveal: From a Western Star 4900EX to a home on the road for this owner-op with 'celebrity renovator']
Forging relationships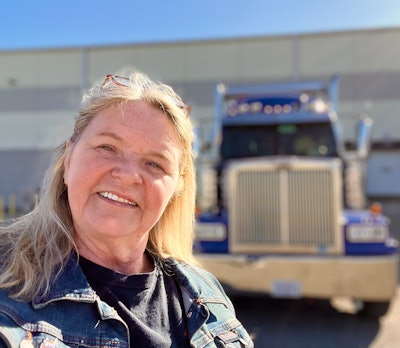 Early in 2022, Desiderato picked up a customer, Applied Felts out of Martinsville, Virginia, that keeps her "comfortably busy" hauling their felt product across the country. She noted, however, that getting her foot in the door wasn't easy.
"I called them up one day. I knew they were there, right in my neighborhood," she said. "It must have taken me three days to build up the nerve to make the call."
She got through to a decision-maker, "but she didn't want to hear me out" at first, Desiderato said. Once she'd convinced them to let her make her pitch, she detailed her situation -- that she lives locally and was asking if they would keep her in mind as a backup. The pitch worked, and they had her send over her authority and insurance information. One of the photos was blurry, however, which gave her the opportunity to meet them face-to-face when she decided to just take a copy directly to them.
"That was all it took," she said. "I was off and running from that day on. I think I had a load the next day. I service the hell out of them. They know that I'm only five minutes away and they can call me last minute" if need be, though most loads today are booked with plenty time to prepare.
Melody Martin with Applied Felts said Desiderato has been a great addition to the carrier base. "Debbie has done a fantastic job for Applied Felts in the last year we have been associated with Walkabout Transport," Martin said. "She delivers in a timely manner and takes care of our customers, which is our number one priority."
Martin added that having Desiderato based down the street is a bonus for them. "We're thankful to have Debbie so close to our facility. She is flexible with our schedule and such a pleasure to work with."
That relationship, while still fresh, paid off for Desiderato last May when she had to park the truck to take care of her husband, Frank, who was sick with cancer. He had previously had colon cancer in 2015, but it had been in remission. It returned in 2022 and had spread to his liver, pancreas, lungs and brain. "It just bombarded him," Desiderato said.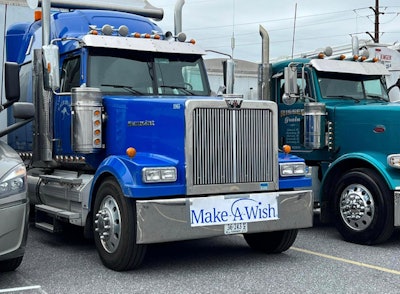 He went into the hospital on Mother's Day, while Desiderato was participating in the Make-A-Wish Mother's Day Convoy in Pennsylvania. She said he got out of the hospital, then pretty quickly went on hospice. "I stayed home and looked after him the best I could," she said. "He lasted about eight months after that, and died in January of this year. That was pretty rough."
Through that time, Desiderato kept in touch with her customer in Applied Felts, "and they just waited for me to come back. As soon as I got back, I was pretty much up and running again. They've kept me busy."
Martin said the company "knew she needed to take care of her husband. We really wanted to hang on to her because she is exactly what we're needing."
Ongoing costs during such an extended downtime made for a test in management for the owner-operator. Yet she was able to get her insurance, which is through the National Association of Small Trucking Companies (NASTC), put on hold to where she was only paying the minimum to keep her authority active. "That blew me away," she said. "I didn't know they could do that." She canceled subscriptions she had to load boards, PrePass, "everything I could think of."
Still, during the eight months she was away, she "lost about $25,000," just surviving on savings. "I lost that. Frank's money, pretty much the 20% co-pay of all the hospital bills wiped out his money. It was pretty rough."
Since returning to the road, however, between good rates from her main customer and the logging she does on the side, her outlook for 2023 is bright.
"I don't have to do 100,000 miles a year anymore," she said. "I love the place that I'm at. The house, I just put fencing up. I'm getting a couple cows. Pretty soon I'll be growing food there -- vegetables and stuff. It's important for me to be home more than I used to be. I'm probably only working 25 or 26 weeks a year."
All that considered, "I'm definitely doing pretty good for this year," she said.
[Related: In a tough spot market, strong relationships with those who feed you will pay off]
'Like we're born with it': Mechanical aptitude from down under, financial preparation
One thing that keeps Desiderato successful is her knack for mechanics, coupled with her self-described "Ph.D. in Google." She handles the vast majority of maintenance on her truck herself, including oil changes, air bags and shocks, starters, alternators and more.
She recently had an oil pressure switch go out while going down the highway at 65 miles an hour, and the "truck just cuts off," she said. She managed to get it to the shoulder and, with nothing but a dashboard light to go on, diagnosed the issue with that aforementioned Ph.D., she said. "I figured out it was the oil pressure sensor. Things like that could potentially put me in the shop for weeks. I can take care of stuff like that once I diagnose it. I don't mind getting my hands dirty."
She's also leveraged the skill and equipment of neighbors near her Virginia home to do bigger jobs, such as changing air bags and shocks all around recently. "I'll buy the parts, order a lot of stuff online," she said. "Order a lot of stuff I don't need so I've got it -- starters, alternators" and more. "I'll keep it in my garage at home or in the truck with me. I think I saved a lot of money" doing that, she added.
That mechanical ability, she said, is "just coming from being Australian. It's like we're born with it," she said. With remote roads that "don't have a truck stop every other exit like you do here," being mechanically inclined is "kind of a born resource that we have." She recalled a time from when she was a child in Australia riding in the car with her mother when a fan belt broke. Her mother used her panty hose to make a fanbelt that got them the 100 or so miles to where they needed to be. "It's just what you gotta do out there," she added.
For preventive maintenance, Desiderato changes her oil every 15,000 miles and borrows a neighbor's grease gun every 5,000 miles to grease everything that needs it on the truck.
[Related: Owner-ops navigate rocky truck parts-procurement landscape]
On the financial side of the business, even with that lost savings last year, Desiderato is currently debt-free and plans to keep it that way. She bought her 2017 Western Star in early 2021 and has it paid off. The same applies with her personal finances -- the house she bought that year is also paid off.
Her other business expenses are low, she said, with her insurance through NASTC only running her $4,850 a year. "I think it's to do with how long you've had authority, your MVR and stuff," she said. "I'm spotless. DOT and license is spotless."
When she's hauling the felt loads across the country, they're very light, weighing only about 5,000 pounds, keeping wear and tear on the truck at a minimum. When she's hauling logs with full loads in excess of 100,000 pounds, though, that's another story. But that's where her mechanical ability plays a big role in saving money.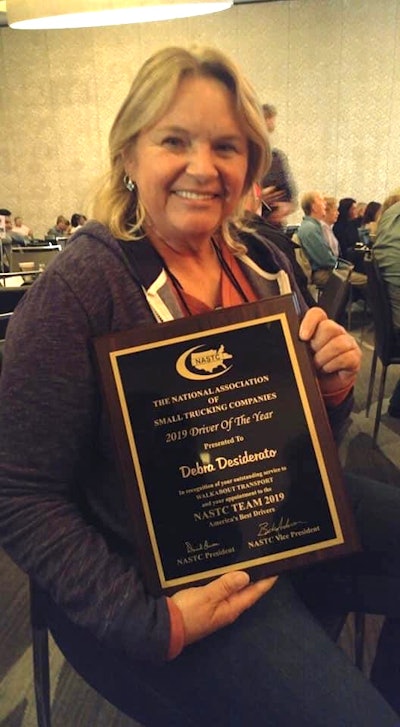 She also handles her own road taxes and permits, as well as invoicing brokers on the rare occasion she uses them.
"I used to work pretty hard," particularly in the strong years of 2018 and 2019 for her, to save money and work on paying down debt. "I just hustled," she said. She doubled up on truck payments when she could and "paid off as much stuff as I could."
With her work with Applied Felts, Desiderato said she quotes by the load and doesn't have a contract -- somewhat abnormal for a dedicated customer. But by having that type of relationship, she's able to manage expenses better by building current fuel costs into each load.
Off the road, Desiderato is today a board member for the Real Women in Trucking group, which she said "is going places." RWIT founder Desiree Wood, Desiderato said, "is out there kicking down doors and taking names," advocating for women in the industry.
The owner-operator's also a member of the Driver Subcommittee of the Federal Motor Carrier Safety Administration's Motor Carrier Safety Advisory Committee. Established in 2021, Desiderato said the subcommittee has only met one time that first year and "now it's crickets," she said. "I don't know if they're ever going to plan on having another meeting."
That first meeting in 2021 addressed a variety of issues, including truck parking, but now "not a whole lot is being done" in the public sector, as she can see. Private companies like truck stops are adding parking capacity where they can, she said, but "the government's not doing anything about it."
[Related: FMCSA driver-advisory panel's first subject: Not any 'driver shortage' but the rentention of experience, safety]
---
You can enter your own owner-operator business or nominate another for Overdrive's 2023 Trucker of the Year competition via this link. Nominations will be accepted through at least July 2023. Hear Trucker of the Month contenders' stories in their own words via the playlist below.