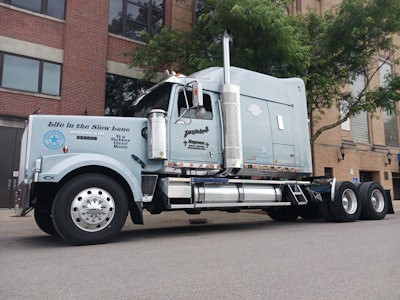 Jay Hosty was 19 years old and had little to no previous experience with trucking when he bought his first truck and became an owner-operator.
A native of Chalmette, Louisiana, just outside of New Orleans, Hosty's first experience with a truck was when he was 16 and jumped aboard a rig for a couple blocks after asking a driver for a ride. During the short run, the driver told Hosty he was taking his load to Nashville, and was getting paid to do it.
Hosty was pretty much sold at that point.
About a year later, he came across something that would mold how he would operate throughout his career. He picked up a copy of Chilton Publishing's Owner-Operator magazine and read an article about cost per mile.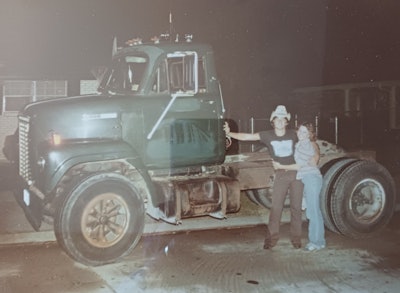 "I read the article and was just intrigued about how you break everything down by the mile, all your costs," he said. "That stuck with me through my career. I'm real big on cost per mile. Some guys will ask what a load pays. That doesn't tell me anything. I have to know the per-mile rate -- that's what tells me if it's good or not."
"The truck cost more than the house I was living in. My dad thought I was crazy." --Jay Hosty on his first brand-new purchase in the late 1980s which, no matter what his dad thought, he made work well enough even pulling containers at the time
Hosty added that he was "born with the gift of being frugal," so saving money has always been a strong suit. He's been able to thrive during 41-plus years of ownership, which included losing his home and his truck in Hurricane Katrina in 2005. His success led to Hosty being named the Overdrive Trucker of the Month for April.
Hosty was nominated to compete for Overdrive's 2023 Trucker of the Year award by Overdrive contributor Gary Buchs, who connected with Hosty recently at an "Eight Days of Hope" event in Lake Charles, Louisiana. Buchs said Hosty's story of being so young and coming across a magazine that set the course for his whole career "was just so intriguing.... It set a foundation for him as far as the business side of things that he still uses today. He never was a company driver, never went to a driving school. He was an owner-operator right out of the gate back in 1981. Business-wise, he grew like grassroots, learning through mistakes, saving."
Buchs further described Hosty's career as "working in silence and letting the results tell the story. I see him as a poster child for that statement."

Hosty's early history in trucks, in brief
Hosty's trucking career began in 1981 when he bought the single-axle, gas-burning International you see in the picture above to do local work around New Orleans moving containers from a yard to the port for Brown Transport.
He bought his second truck in 1982 -- a 1970 Freightliner cabover -- which he called "a big step up from that little gas-burning, single-axle International." With a little bit more truck, Hosty started moving containers a little farther afield to places like Baton Rouge or Lafayette, Louisiana. Another truck upgrade to an International cabover moved the distance needle further.
Then in 1987 he bought his first brand-new rig -- a 1987 International conventional with a flattop double sleeper. "I was 24 years old," he said. "The truck cost more than the house I was living in. My dad thought I was crazy."
"They just put me on hold. It was just a matter of getting a truck and getting back." --Jay Hosty, speaking to his now long-ongoing partnership with Landstar, relatively new after disaster struck his business in 2005
But even with a $1,400 monthly payment and still moving containers, he made it work and continued to thrive.
[Related: 'Everything is a lesson' -- Pulli Express' path to profits through continual adjustment]
"Pulling containers, brand-new truck, 72 cents a mile is what we got, loaded and empty," he said. "We went by the household moving guide, getting ripped off on your miles every trip. Actual miles, it was probably more like 65 cents a mile."
In 1993, he traded that International for a new Western Star, and he's now been driving Western Stars for 30 years. He traded in 2000 for a new one, which he planned to last him at least a million miles. The 2000 model was ordered a daycab. Hosty put an 80-inch custom sleeper on it, not huge by big-bunk standards, but it was fit to his needs. It had a back door, windows in the side, a sink and countertop and more.
"I really wanted that to be a million-mile truck," he said.
But in August 2005, those plans got turned upside down.
Fair deal on the payout after the deluge
When Hurricane Katrina hit the Gulf Coast late in August of 2005, Hosty was living near Gulfport, Mississippi -- one of the hardest-hit communities. He and his wife, Katt, and their three adopted daughters at the time (more on that later) lost their home, and Hosty lost his truck.
"It went underwater, basically, and they said it was ruined," he said.
Immediately after the storm, his family bounced around waiting for a FEMA camper to come available. They lived with his sister for a couple weeks, then some friends told them about a Christian retreat in Panama City Beach, Florida, that was housing evacuees. They stayed for a couple weeks.
"That was almost like a vacation," he said. "They fed us three meals a day. The place was set up for a Christian retreat. We had like a little motel room."
Once the 30-foot FEMA camper was available, they moved into it for the next six-eight months – Jay, his wife, Katt, three daughters and two dogs. "It was tight," he said.
Eventually, they found a place to rent in Diamondhead, Mississippi, just outside of Gulfport, and came to like the community, so they decided to buy a house there, where they still live today.
"if you don't know your costs then you're just shooting from the hip. I just don't like running cheaper freight."
--Jay Hosty
Hosty had his truck insurance through the Owner-Operator Independent Drivers Association, of which he's been a member since 1989. All of his tractors through the years have been insured through their program. After Katrina, he got a fair deal on the payout, he said, and by Nov. 1, 2005, he was in his next new truck, a 2006 Western Star he found at Jenkins Diesel in Springfield, Missouri.
Hosty had been leased on with Landstar for about a year by the time Katrina hit. "They just put me on hold" while he was out of a truck for two months until he could get back on the road. "It was just a matter of getting a truck and getting back," he said.
[Related: A purposeful life beyond the truck: Owner-operators Jay and Katt Hosty]
Eyes on profit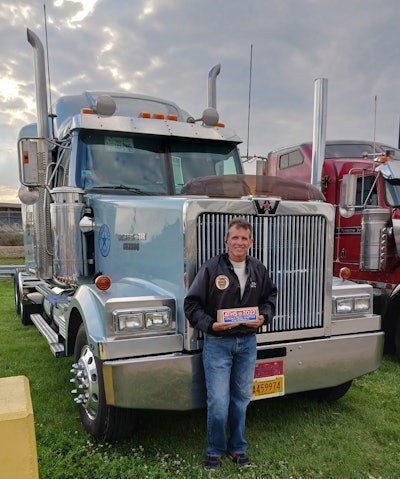 Still leased to Landstar today, Hosty stays focused on the balance between per-mile revenue and costs, and doesn't mind deadheading a few hundred miles to get a more profitable load.
He noted a recent pickup of five-gallon propane tanks he took to Boston. "The freight was so cheap up there," in the $2/mile gross revenue range, so he "bounced 700 miles into Ohio to pick up a good-paying load that brought me back down to Orange, Texas."
The owner-operator's ability to save money through the years, and knowing his costs back and forth to easily understand which loads are profitable, and which load are not, have allowed him to slow down in recent months and be choosy about freight.
"To me, you've got to know where your cost per mile is to know if you're profitable or not," he said. "I have a paid-for truck, so my cost per mile is lower than a guy with a $2,000 per month payment. I can run some cheaper freight and still be profitable, but if you don't know your costs then you're just shooting from the hip. I just don't like running cheaper freight."
[Related: How to hold the line: Owner-op's playbook to push back on cheap freight]
Hosty noted that the high rates of late 2020 and 2021 spoiled him to an extent. Adjusting back to lower rates has been difficult, for certain, he said. "It's hard to come back to the reality of $2/mile freight when we were doing $4/mile."
His choosiness with loads ate into his income a bit last year and so far this year, but he said he'd rather run fewer miles and spend more time at home than run unprofitable miles.
Leased to Landstar, fuel prices haven't hurt him as bad as some other operators given the discounts he gets through the company's volume buying, he said. He's also continued to save money for maintenance and other expenses through an account Landstar has in which owner-operators can contribute up to 10% of their settlement. "You don't miss it when you don't see it," Hosty noted.
He reaps the fuel-mileage benefits of slowing down, too.
"The influence you can have on a life, that improves community. Is there anything more precious, more valuable than that type of effort and investment?"
--Gary Buchs, speaking to one of the reasons he nominated Hosty for this program's recognition -- he and his wife's foster parenting through the years
Around 2007, more than 25 years into his career, Hosty heard Kevin Rutherford "preaching about driving slower," he said, to save fuel during that year's pricing shocks. "I wasn't a speed demon, but I was a speed-limit driver." What he heard, in essence, was an oft-repeated maxim: for every mile per hour you slow down, you gain a tenth of a mile per gallon. Hosty tested the theory, and he said he really noticed the difference when he started running 58 mph.
[Related: Paths to 10-plus mpg in a Class 8 diesel tractor]
Before taking his foot off the throttle, he'd never averaged more than 6 miles per gallon -- normally around 5.7 or 5.8 mpg. Running 58, he got his average up to 7, now a routinely achieved annual average for the business. And he got that million-mile truck he hoped for before Katrina nearly wiped him out. His 2006 Western Star sits upward of 1.4 million miles, still boasting the original 60 Series Detroit. Hosty said he's going to keep it as long as it's running well. "If it goes out on me tomorrow, I'll get the engine rebuilt, but I'm not getting rid of this truck, per se," he said.
Still, about a year ago, he bought a new 2022 Western Star with the plan of having another custom sleeper built and making that truck his retirement vehicle.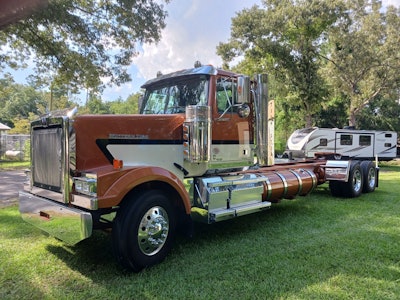 He's been quoted a cost of about $1,000 an inch for the sleeper addition, he said, and a year-long waitlist at the big custom sleeper builders. He's on hold for the buildout, for now.
"I'm sitting on that truck and not sure what I'm going to do with it," he said. "It's a 2022 with 2,800 miles on it. It's hard, as a frugal person, very hard to justify spending that much money on a sleeper." Time will tell what direction he takes with it.
Hosty added that he's looking for people outside of the large builders with expertise in sleepers.
A life of true service
As written by Gary Buchs earlier this year, the Hostys have fostered more than 100 children over the last 35 years and have adopted eight of them along the way -- two boys and six girls. Two of the girls, ages 18 and 13, are still at home today.
"We were never able to have our own children, so we went into foster parenting for that reason," Hosty said. "We ended up adopting our very first foster child when he was three years old. He's 34 now."
The two girls that are still at home Hosty calls their "second round" of adopted kids. "I thought I was done after the first round. I'd like to say we're finished now, but I can't ever really know what God has in store for us," he said. He said he and Katt still enjoy fostering children.
It's yet another reason Buchs nominated Jay Hosty for this recognition. "Think about how you connect with a child throughout their life," he said. "The influence you can have on a life, that improves community. Is there anything more precious, more valuable than that type of effort and investment?"
Jay Hosty also recently got involved in the Eight Days of Hope charity organization. Last year's event in Lake Charles was the first he'd participated in, and he said that he plans to attend an upcoming Eight Days of Hope event in Ft. Myers, Florida, next month.
Additionally, in trucking but outside the truck he was one of, if not the, youngest ever member of the OOIDA Board of Directors when he was elected to the board in 1994. He stayed there for 16 years, attending board meetings about twice a year and helping establish OOIDA's Safe Driver Award. As one of the active drivers on OOIDA's board, Hosty said he was able to give input that some of the retired drivers on the board were not able to.
OOIDA Executive Vice President Lewie Pugh has known Hosty since Pugh joined the OOIDA board in 2004. "Jay is a good owner-operator, but an even better person," Pugh said. "He loves trucks, loves trucking. He's never worked a day in his life. This job is always his passion."
---
You can enter your own owner-operator business or nominate another for Overdrive's 2023 Trucker of the Year competition via this link. Nominations will be accepted throughout the first half of 2023.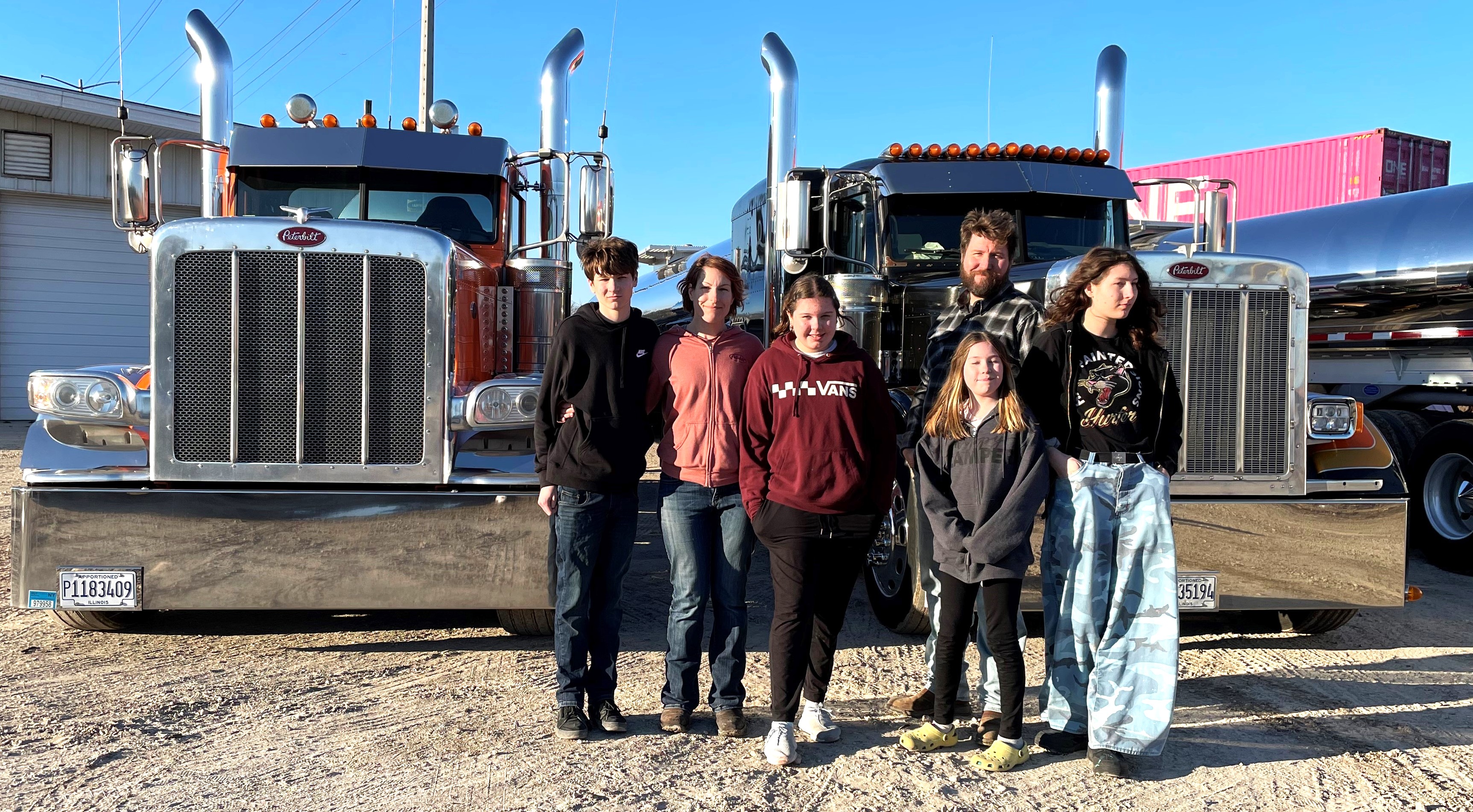 Pulli Express Inc.'s path to profits through continual adjustment
March Truckers of the Month Tim and Shelley Puzek-Pulli's steady approach to their two-decade-old owner-operator business got a shot after post-crash reckoning in 2012.