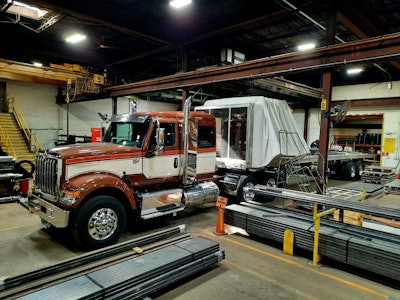 All photos courtesy of Joe Bielucki
Longtime owner-operator Joe Bielucki was fuming mad when he read the email from his main customer's corporate logistics director. It was an email like thousands of others sent over the last year or so, during the trucking industry's rollercoaster ride from unheard-of pandemic highs to nigh on a "bloodbath," but Bielucki found a novel way to shoot back.
"Late in the summer of '22 our main customer, citing data from the 'market,' i.e. DAT [spot market averages], decided they wanted to lower our rates by seven percent," he said. "I was unloading somewhere and checking my email. I saw the mail from our corporate logistics director and was fuming."
What followed is that old familiar feeling of seeing red. Bielucki has run a trucking business for 36 years, and done so with a nearly spotless record.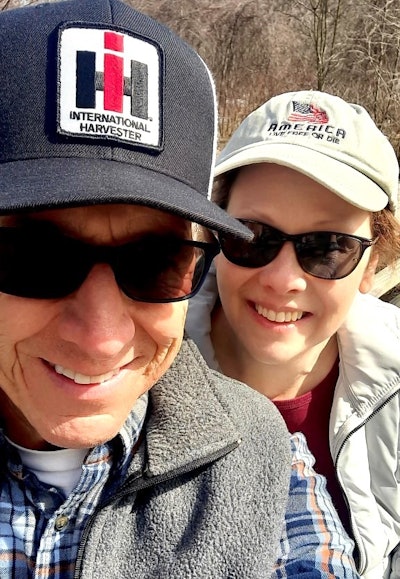 His main customer, a steel company with a warehouse out of Middletown, Connecticut, works with him and five other owner-ops to haul flatbed loads around the country, though Bielucki now mostly runs fairly regional in the Northeast.
"For years we had a situation where we had house rates," he said. "There was six of us with our own authority, and we all lived in different directions and we all agreed on house rates without worrying what anyone else was doing."
That all changed a few years back when the steel company hired a transportation management service, supposedly to make everything run a lot smoother. The company, TMC, a division of C.H. Robinson, got to work dismantling the system of house rates.
What that meant? "We had to go in every single load line by line and bid the freight," said Bielucki. Essentially, he added, they were pitting each owner-operator against the other, "and in the end you were only awarded so many lanes."
TMC also changed the surcharge model. "It used to be a percentage of the linehaul gross rate, so at times when fuel was above $5, we got 30% of the linehaul for fuel. And since we were dedicated we'd be right back to the plant to load again," he said.
But under the new regime, they only paid a surcharge going out. Bielucki took pencil to paper for a hard look at his cost per mile, and spoke to his wife, Ginny, an accountant. He decided he wasn't going to take the hit, and would instead "go in high and see what happens."
[Related: Small fleet owner leads boycott of TQL]
At the same time, "tires, fuel, parts, all went crazy" in terms of cost, he said. A familiar experience by now, simple, necessary parts like tires went from setting him back $400 to $750 apiece in 2022. That's when he came face to face with the hard fact that he couldn't run with his fuel surcharge slashed, nor with the kind of load board "market" rates that corporate was comparing his operation to.
He wasn't the only one in such a situation last year. ATBS calculates owner-op income took a dive, about 10% on average, in 2022.
"They sent us an email saying they're going to open up the bid again in case you need to adjust pricing," said Bielucki, who interpreted this as a very nice way of telling him to sweeten the pot. Bielucki said no. "I sent a very nice email saying I'm not interested, I sent what I sent and I meant what I sent."
Bielucki did win some lanes, and made good money on the lanes he did run. Sometimes, other haulers would "fall off a load" and he'd get to pick it up for his own rate, which he likened to "winning the lotto."
[Related: Owner-operators navigate rocky parts procurement landscape]
For months, that consistency and sticking to his guns panned out. But then, that rage-inducing email came late in the Summer of 2022.
"The corporate logistics director at the steel company says, citing data and what's going on in trending data," he's looking to lower rates seven percent, as Bielucki put it. "I thought, that's interesting. I just bought tires -- the same tires I bought for $400 years ago, now $750," he said. "I'd like to see how those other guys are operating with $5 fuel still going on."
Bielucki spent an afternoon drafting fire-and-brimstone type emails in his head. "I'm the type go go full Hiroshima and clean up afterwards," he said, but instead of pressing send on any angry email, he went home and spoke to his business partner, best friend, and wife.
"She said calm down and give it some time," he said. "We're all human. It's good to have a good spouse or partner to share your life with and shoot a little truth dagger at you. ... 'All right, fine. I'll wait.'"
After sleeping on it, the next morning he put on some coffee and drafted one of the more successful emails of his career.
"I know my corporate logistics guy," he said. "I've met him, he's a normal guy who puts his shoes on just like I do. ... I said I'm not interested in this, not interested in cutting or lowering the rates. I've done this for years with zero cargo claims. Nobody ever called on me said I was belligerent at the dock or hard to work with. ... My service here has been exemplary."
Importantly, Bielucki took steps to "soften the blow," and not fully blame the company. But he also pulled in some relevant economic data.
[Related: How to speak your customer's language with data, business confidence, market knowledge]
"I said we've got inflation that's nuts. If you go and buy any parts for your truck, even oil or grease, it's way up. I'm not one of these guys who raised their rates 100%" during the early pandemic surge, he said. Bielucki mentioned fuel costs, surcharges, and even Connecticut's controversial miles tax on trucks, then set to go into effect on January, 1, 2023. "I'm just trying to stay alive here."
He put all that eloquently in an email, "wasn't accusatory, and just said I don't want to participate in this and simply take me off the loads you think I'm too high on," he said.
Bielucki doesn't haul brokered freight and holds a dim view of spot-market average rates published by the likes of the major load boards.
"DAT puts out these numbers and says the average flatbed rate is $2.57 [for example], but that is a load board," he said. "You're talking brokered freight, and I don't run broker freight, I'm not going to put myself in that category. Most of those guys are doing direct freight on the way out and looking for brokered freight on the way back in. I don't like those numbers. I know what my costs are and my miles per year."
Establishing his rate includes careful accounting for the unknown, and recent market swings as well. "There are times now where people are getting repairs even under warranty and losing three or four days to parts shortages," he said. "You have to factor all that into your rates."
[Related: Nontraditional truck parts-sourcing strategies on the rise]
On the bidding process, Bielucki said he could have "gone lowball and maybe got an extra lane, but those rates will get you sooner or later."
A few days passed without a response, but Bielucki stood firm, focused on his numbers and principals, not what the company wanted.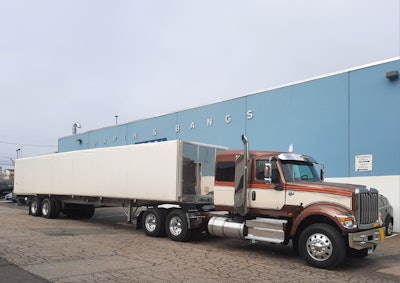 Finally the response appeared at the top of his inbox. "Here we go," he thought, bracing for impact.
"He says I got your email and I agree you've given fantastic service hauling steel and coils, which can be tricky," said Bielucki, paraphrasing the email. "In that spirit, we are not going to cut your rate 7%. From now on we will not make you pariticipate in the annual RFQ and you'll deal with the East Coast rep in North Carolina directly, anything that needs to be adjusted call him and he'll put it in manually."
Not only did Bielucki stand his ground, but he did it with nothing more than an eloquent appeal to the facts, which happened to be in his favor. He didn't ask for a handout or exaggerate anything, fuel and parts prices had indeed ballooned, while his service remained solid.
"It's something that happens from doing your job right," he said.
Bielucki simply drew a line. "You have to be prepared to say, 'OK, this may not end well and we might have to start looking for something else to do.' This is probably what holds a lot of people back, but I believe so strongly in this I'm willing to put it on the line."
Bielucki knows his business, and his business partners (even more so now) know he's a known, dependable quantity. They're able to see that as an asset to their own business.
In perhaps the ultimate gesture of respect, the company recently reached out to him to find out how to best compensate carriers in and around Connecticut for the new vehicle miles tax. Bielucki could hardly believe his ears when he got the call, and said he'd already factored that cost into his rate. He and fellow owners doing business for the customer still ended up with a $20/day bonus to cover the increase.
In the end, Bielucki didn't have to go nuclear on anyone. He leaned on his wife for support when business looked dire, then found strength in his own savvy to hold the line. In that way, he's like other owners recently interviewed about success battling current market dynamics.
When it comes to freight negotiations, It's a tough scene out there no doubt. But it's surely better if you listen to your wife.
Shortly after winning the negotiation, he ordered his new truck, a 2023 International HX with a custom paint scheme from 1970s-era International Eagle 4300s that the factory applied for him.
[Related: Trucking's 'bloodbath,' a year later: How some owner-operators hold the line]