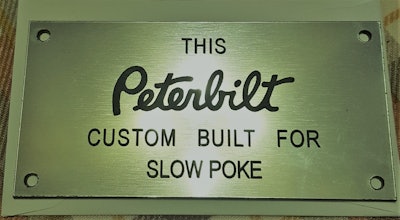 No, the Pete referenced above was not built for the Federal Motor Carrier Safety Administration's drug-and-alcohol clearinghouse website, though the sentiment in the nickname certainly could apply.
Connecticut-based owner-operator Joe Bielucki in this case happens to be the "Slow Poke" there referenced, and like so many owner-operators recently has experienced the clearinghouse issues directly himself. Also like many others, Bielucki had been under the mistaken impression the January 6 implementation of the clearinghouse requirements represented a kind of deadline for registering a clearinghouse account as a carrier — not the case. The deadline aspect of the date was related to the new queries carriers would be required to make upon hiring a driver.
Carriers doing that have been experiencing issues, too, at least according to a new notice on the clearinghouse website that essentially delays the new query requirement for carriers experiencing technical issues with DOT IT infrastructure:
Notice: If you are an employer currently experiencing technical difficulties accessing the Clearinghouse and are unable to conduct required pre-employment queries, you may hire a driver using solely the procedures set forth in 49 CFR 391.23(e). Once FMCSA has determined and announced that users are able to access the Clearinghouse, pre-employment queries must also be conducted as required by section 382.701(a).
If you're a small fleet or other reader in that particular boat, keep tuned.
As for independent owner-operators just looking to set up their account to designate a consortium, etc., give it some time to settle out — at least that's what owner-operator Bielucki is doing.
"I went on the clearinghouse because I was under the misunderstanding that I had to have it done by the 6th," he says, as noted also above. "I think everybody thought the same thing – I went on between Christmas and New Year's and sat down at the computer. I got to the part about setting up an FMCSA portal account," and when he went to do that, it seemed as if the FMCSA portal was experiencing service issues. "The portal account set-up asked me for my DOT number, I put it in, and it said my DOT number doesn't exist."
Both issues are common, indeed, says Lucas Kibby, marketing manager for drug testing consortium CleanFleet, which works with thousands of owner-operators. Kibby says fleets, drivers and owner-operators flooded the Clearinghouse site Monday, many of them "stressed out thinking they had missed the [deadline]" to register, he says. The surge in traffic caused connectivity issues with the site that FMCSA is still trying to fix. As Kibby notes, single-truck owner-operators aren't required to do anything with the Clearinghouse immediately, and can wait weeks or months to handle their annual self-check of the system.
Like Bielucki, many fleets and operators are seeing another issue: A disconnect between the portal that handles carriers' UCR profiles and the Clearinghouse itself. Many fleets and owner-operators don't have an account within that UCR portal. "That's what's been crashing the most," says Kibby.
Joe Rajkovacz of Western States Trucking Association, which also operates a third-party drug test administrator for fleets and owner-operators, has seen the same hang-up repeatedly in recent days.
Owner-operator Bielucki could still login to FMCSA's system with his DOT-issued PIN elsewhere, for instance, to check his CSA SMS scores, but he got stuck right there in the clearinghouse process, at the portal. "I tried it four times, then said to myself, 'I'm not going to risk getting locked out for the day.'" He abandoned all attempts and decided to give the system, and the agency, time to get the bugs worked out.
With that he joins more than a third of Overdrive readers, according to results of ongoing polling launched early this week. As of midday today, January 8, 29% of readers had noted they'd tried registering in the clearinghouse but the website seemed to be down or overwhelmed, and another 6% had started the registration process but abandoned it for a variety of other reasons.
Bielucki likens it to "Obamacare during the first open enrollment," with a flood of traffic exposing inadequacies in the IT infrastructure. "The government's telling you to do something and you're being mandated to do it, and you can't do it. … In my wisdom," he laughs, "only from being alive for years, I thought, 'You know what, this thing's going to crash and we'll get a reprieve. I'm done, I'm not going to bother.' And old Joe was right."
Today when we spoke, he was out hauling steel in the region around his Connecticut home and enjoying the upgrade in comfort, he says, that is his new truck. He took delivery of the Cummins-powered 2020 Peterbilt 567 (13 speed manual) in October after selling his well-maintained 2004 Kenworth T800 daycab regular readers will recall from past coverage.
Despite a couple small issues covered under warranty, "the truck is fabulous," he said from the cab with 50,000 lbs. worth of steel on the trailer and the interior "nice and quiet" by comparison to his previous units. Better yet, with the Cummins X15 efficiency engine (rated at 500 hp with 1,650 lb.-ft. torque) not even totally broken in as yet, "I got 7.5 mpg for the day yesterday," he adds, with winter-blended fuel to boot. "When the engine breaks in a little and on summer fuel, that should be above 8 mpg" is his best guess. Over a year, it could well amount to "a $7,000-$8000 a year raise."
The unit plugs in at night with both a block heater and fuel tank heaters, so "I don't have to spend a ton on fuel additive," he says. "I'm pretty confident I made the right decision" to purchase, after getting the blessing from his wife to invest in what the 53-year-old is calling his last truck. "The visibility is fantastic. It's a nice way to go to work – this is the one that drives me into the nursing home, straight into Shady Glen."
He spec'd it with two-tone paint and twin stacks to nod to the old-school look with what he jokes is the "old man's Peterbilt. My mid-life crisis: two-color paint and the extra exhaust to nowhere. A young guy from Delaware with a 359 messaged me and he said, 'Man, I like the truck, but it's just not quite as cool as a 359.' I told him, 'When you get to my age, cool is being able to get out of it without your ears ringing.'"
The purchase makes good, too, on a promise to the man who sold Bielucki his first truck, also a Peterbilt, when he was in his 20s. Bielucki ran into Dick Berluti with Peterbilt of Connecticut in North Haven by chance just a few years ago. "I told him I'd give him a shot at my last truck," Bielucki says, and he did just that when they made the deal on the 567 in April last year. His career "is coming full circle. It's nice it went down that way. So that's it — I figured if this lasts 15 years like the Kenworth did, that should be able to finish me off, unless there's some miracle discovery in the anti-aging stuff, in which case I'll be calling him again."
—James Jaillet contributed reporting on the Clearinghouse to this Channel 19 feature.