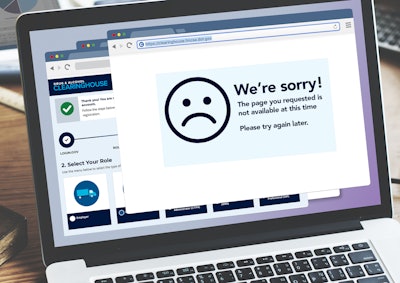 Marcel Dunant, a Savannah, Georgia-based owner-operator, switched carriers last month, dumping his former carrier for a new one, Reliable Transportation, to whom he now leases his 2016 Kenworth T680.
Part of that hiring process, as of Jan. 6, is the required check-in by fleets to the U.S. DOT's CDL Drug & Alcohol Clearinghouse — a database of drivers who have failed or refused a drug test (populated with information beginning Jan. 6 and later).
Dunant was well aware of this, he says. But like many fleets and truckers who've interacted with the system so far, Dunant describes what he stumbled into as "a big mess." From his end, the process of registering was confusing, he says, with registration designated for "owner-operators" causing him to venture down the wrong path, as the "owner-operators" referred to were independents, not leased owner-operators like Dunant.
Owner-operators leased to a carrier must register simply as drivers in the system, not as owner-operators, when registering so they can switch carriers.
Then, Dunant's hiring fleet, Reliable Transportation, had to send multiple queries for the system to finally respond, he says.
"I'm not stupid on a computer. The navigation on the site is just awful," says Dunant. "You have to have a lot of patience. Whether it works or doesn't work at the time is going to be the question."
Though DOT has mostly fixed the bugs that snared the system in its first two weeks, confusion and registration troubles persist for owner-operators, fleets and drivers interacting with the system, especially in their first experiences, like Dunant's.
The Federal Motor Carrier Safety Administration last week updated the Clearinghouse website to note that the site is "fully operational" and that the leeway period granted while the site experienced technical issues has ended. "Mandatory use is now in effect," the note states.
"For the most part, it seems we are past the troubles that originally plagued the rollout," says David Heller, vice president of government affairs for the Truckload Carriers Association. Heller says he's been fielding calls from TCA's fleet members about the Clearinghouse site's functionality issues. For now, he says, "my phone has stopped ringing" over Clearinghouse complaints.
However, one hang-up still lingering, especially for independent owner-operators (who must register as an employer, in addition to registering as a driver), is a key registration step: Linking their Clearinghouse profile to DOT's broader carrier registration portal. That website is separate from the Clearinghouse, but it's one carriers, including single-truck independents, must access to create a Clearinghouse account.
"Eventually, all employer accounts [in the Clearinghouse] will need to connect to the FMCSA portal, and we don't know what the process will look like," says Luke Kibby of drug consortium Glostone Trucking Solutions (formerly known as CleanFleet). The Clearinghouse website still crashes when carriers (including independent owner-operators) try to connect their Clearinghouse account to the FMCSA portal, says Kibby.
Tom Fulmer, vice president of National Drug Screening, a national provider of DOT drug tests, has noticed the same. "FMCSA is still working on that," he says. For now, his consortium is helping owner-operators with work-arounds until FMCSA can fix the problem. However, he says the Clearinghouse process has been getting smoother overall.
Right now, there's nothing independent owner-operators must do to remain compliant with the Clearinghouse requirements. By year's end, they'll need to register within the Clearinghouse as an employer and a driver and designate a consortium to perform the required annual query of themselves. Likewise, small fleets who employ any drivers — even just one — must run the annual query on themselves and on their drivers, which can also be handled by a consortium or third-party administrator.
Independents and small fleets will also need to purchase queries from the Clearinghouse for $1.25 so they can run the required checks.