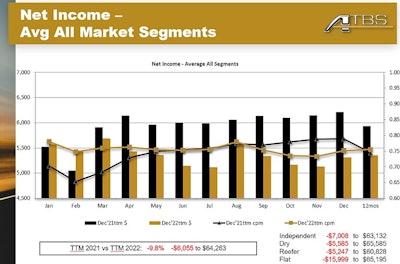 Business services firm ATBS, partner with Overdrive on the long-running Partner in Business owner-operator business manual, will host a conference call and online presentation this Wednesday, March 8, charting its analysis of client owner-operator cost, revenue and income performance now that the tough year of 2022 is in the books. Soaring costs throughout the year led a nearly 10% drop in income for the average owner-operator business, as shown in the chart above.
The drop was most acute for leased flatbedders, who took a more-than-$15,000 annual hit on average compared to record 2021 income. Independents with authority dropped $7K amid falling spot market rates, while leased dry van and reefer owner-operators' incomes fell around $5,000 -- again, all of it following a record income year in 2021.
Typically owners buckle down and run more miles in times of falling rates, but that wasn't the case in 2022. That's why, on a cents-per-mile basis, income at the end of 2022 was only a few cents different, and slightly higher, than that achieved in 2021. Miles run have continued to decline, explained in ATBS' view in part by these factors, some totally out of operators' control:
Labor shortages and resulting extended downtime at shippers and receivers
Some owners parking trucks over fear of high fuel prices, particularly in the first half of the the year
Excessive downtime for repairs and/or traffic congestion
[Related: Three years after COVID onset and subsequent truck parts shortage, owner-ops navigate a rocky parts landscape]
There's another wrinkle in all of it, too, as an increasing priority placed by owners on quality of life has led to an jump in home time all across trucking -- in 2022, whether as a refuge from tough conditions or individuals' desire to continue a regular-home-time course set over previous years, ATBS noted more owner-operators were "going home more often than ever before," as they reported in this brief on results of 2022 analysis.
As part of the March 8 call/presentation, ATBS will run down results in much finer detail, with insight too on just what they saw from a more rare group of clients for 2022: those high-earning outliers. What are the best practices that allowed such earners to beat the down averages and maintain high income in a tough time? Hear more on that score this Wednesday, or join us at the Partners in Business seminar at the Mid-America Trucking Show in Louisville, Kentucky -- that's Friday, March 31, in the Pro Talks series in room B104 at the Kentucky Exposition Center.
If you've never experienced one of ATBS' semi-annual owner-operator income benchmarking presentations, this edition of the Overdrive Radio podcast will give you a better idea of what to expect, from the firm's mid-year 2022 session assessing performance through the first half of last year:
Find more detailed information about the ins and outs of success as an owner-operator business with a myriad of other topics in the Overdrive/ATBS-coproduced "Partners in Business" manual for new and established owner-operators, a comprehensive guide to running a small trucking business. Click here to download the updated 2022 edition of the Partners in Business manual free of charge. Overdrive and ATBS will introduce the 2023 edition of the manual at the MATS seminar Friday, March 31, 2023.