Trucking news and briefs for Tuesday, Nov. 7, 2023:
Fuel prices trending back down
Truck drivers around the country the last couple of weeks have likely noticed a drop in prices at the fuel pump, with the diesel national average falling 18 cents over the last two weeks.
The Energy Information Administration this week reported an 8.8-cent decrease in diesel's national average for the week ending Nov. 6, following a 9.1-cent decrease the week prior. Those declines followed a 10-cent increase during the week ending Oct. 23.
Following the last two weeks of declines, diesel's national average stood at $4.37, the lowest since early August.
Broken out by region, price drops were seen across the country during the most recent week, with the most significant in the Rocky Mountain region, where prices fell by 16.1 cents.
The nation's most expensive diesel remains in California at $5.82 per gallon, while the cheapest fuel can be found in the Gulf Coast region at $4.03.
Prices in other regions, according to EIA:
New England -- $4.52
Central Atlantic -- $4.59
Lower Atlantic -- $4.16
Midwest -- $4.33
Rocky Mountain -- $4.49
West Coast less California -- $4.77
ProMiles' diesel averages during the most recent week showed prices fall by 8 cents to $4.40 per gallon.
According to the ProMiles Fuel Surcharge Index, the most expensive diesel can be found in California at $5.96 per gallon, and the cheapest can be found in the Gulf Coast region at $4.05 per gallon.
[Related: How owner-operators can avoid joining the 'capacity reduction' ranks]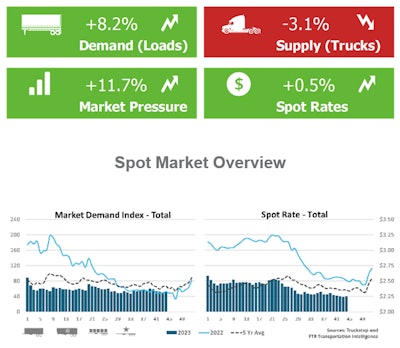 Public voting open for Transition Trucking award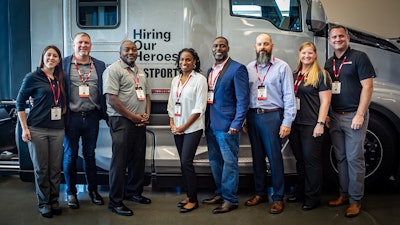 Public voting is now open for the "Transition Trucking: Driving for Excellence" award, a program dedicated to finding America's top rookie military veteran driver. The program recognizes top drivers who have made the successful transition from active duty to driving for a commercial fleet.
The general public is invited to cast their vote online on the Transition Trucking website by Nov. 11. A short video on each driver is available on the website. The voting is an important determiner for the Selection Committee as they make their ultimate choice for the next Transition Trucking award winner.
The finalists are:
Todd Kraus, U.S. Army, Werner Enterprises
Brandon Meredith, U.S. Army, Slay Transport
Ondrae Meyers, U.S. Marine Corps, CRST
Jessica White, U.S. Army, Stevens Transport
LaTravis Wilcox, U.S. Marine Corps, Prime Inc.
The winner will be announced on Dec. 15 at the U.S. Chamber of Commerce in Washington, D.C., and will receive a Kenworth 100th Anniversary T680 Signature Edition equipped with the Paccar powertrain featuring the MX-13 engine rated at 455 horsepower, TX-12 automated transmission and DC-40 tandem rear axles.
[Related: Butterfly Xpress, LNL Trucking come out on top: Overdrive' 2023 Small Fleet Champs]
What has become known as the country's longest veterans' parade, Wreaths Across America's annual "Escort to Arlington," will kick off on Saturday, Dec. 9. The official route, which can be viewed here, will travel down the East Coast, stopping at schools, memorials, and other locations along the way to spread the year-long mission to remember the fallen, honor those who serve, and teach the next generation the value of freedom.
Stops with public events will be held in Maine, Massachusetts, Rhode Island, Connecticut, New York, New Jersey, Pennsylvania, Delaware, and Washington, D.C., before arriving at Arlington National Cemetery on the morning of Saturday, Dec. 16 -- National Wreaths Across America Day.
For the ninth year in a row, Chevrolet is providing the 12 wrapped escort vehicles that will transport participating Gold Star families and veterans during the week-long trip. In addition, Chevrolet has also sponsored 4,000 veterans' wreaths for placement at Arlington National Cemetery to help honor our nation's veterans.
The Escort to Arlington has grown to consist of 13 tractor-trailers representing Baylor Trucking; Budd Van Lines; Saia LTL; Schneider National; Witte Bros. Exchange; Hartt Transportation Systems; Delhaize Transportation LLC (DBA Hannaford Supermarkets); American Trucking Associations -- Workforce Heroes; Cargo Transporters; Prime Inc.; Tyson Foods; Walmart Transportation; and Pottles Transportation.
Additionally, Load One Carriers will once again serve as the ceremonial wreath transporter for the week. These dedicated organizations and their professional drivers will haul a portion of the sponsored veterans' wreaths heading to Arlington National Cemetery for placement on Saturday, Dec. 16.
National Wreaths Across America Day ceremonies are happening at more than 4,000 participating locations across the country on Dec. 16. These events are free and open to all people.
[Related: Remember, Honor, Teach: What Wreaths Across America means for trucking, and all of us]