Trucking news and briefs for Tuesday, Oct. 24, 2023:
Diesel prices climb after 15-cent decline, with spot rates mostly flat on the revenue side
The average price of diesel fuel had declined through much of the first half of October, falling 15 cents over a two-week period from the week ending Oct. 9 through the week ending Oct. 16.
During the most recent week, however, the Energy Information Administration reported prices climbed to largely negate the last two weeks.
During the week ending Oct. 23, EIA reported a 10.1-cent increase in the national average price for a gallon of on-highway diesel. Spot market rates, meanwhile, according to FTR Transportation Intelligence and Truckstop, failed to adjust to account for the added costs on average but for one bright spot in the reefer segment, which posted a 3 cents/mile boost on the revenue side.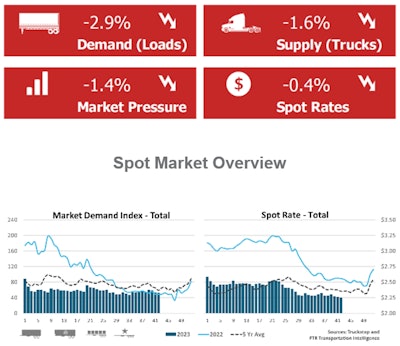 Fuel-price increases last week were largely due to a spike in prices in the Midwest, which saw a 25-cent jump from the previous week. The Rocky Mountain region saw the next-biggest increase during the week, increasing by 9 cents.
Regional gains were offset in part by a 10.3-cent fall in diesel prices in California, which still remains home to the most expensive fuel, by far, at an average of $6.02 per gallon.
The Gulf Coast, which saw a 7.2-cent increase during the most recent week, holds the nation's cheapest fuel at $4.19 per gallon.
Prices in other regions, according to EIA:
New England -- $4.55
Central Atlantic -- $4.67
Lower Atlantic -- $4.30
Midwest -- $4.55
Rocky Mountain -- $4.75
West Coast less California -- $4.99
ProMiles' diesel averages during the most recent week showed prices hold flat at $4.44 per gallon.
According to the ProMiles Fuel Surcharge Index, the most expensive diesel can be found in California at $6.19 per gallon, and the cheapest can be found in the Gulf Coast region at $4.11 per gallon.
[Related: How owner-operators can best avoid joining the 'capacity reduction' ranks]
MATS wants input for 2024 educational sessions
Show organizers for the Mid-America Trucking Show in Louisville, Kentucky, are asking for feedback from prospective attendees of the 2024 event on the types of educational topics they would like to see at the show.
The show will be held March 21-23 and will feature a number of educational sessions, the annual PKY Truck Beauty Championship, hundreds of exhibitors and much more.
To help determine the topics for educational sessions at the show, show management is asking for attendees to complete this short survey. Topics being considered include:
Compliance
Driver training standards
ELDs and ECMs
Maintenance (best practices)
Spec'ing the correct equipment for your operations
Those who participate in the survey will be entered into a drawing to win four VIP tickets to the 2024 MATS.
Interstate Health opens new Georgia clinic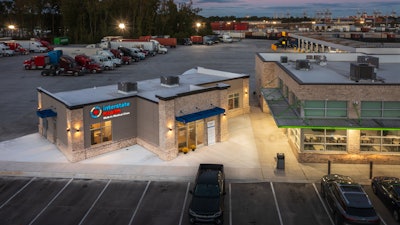 Interstate Health has opened a new clinic in Port Wentworth, Georgia, to provide urgent care, primary care and occupational health services to commercial drivers, community members and the many transport professionals who frequent the region.
"Port Wentworth is a vibrant community serving one of the largest and fastest-growing ports in the country," said Jeff Seraphine, Interstate Health CEO. "As we continue to evaluate new locations where we can meaningfully bring our mission to life, the Port Fuel Center in Port Wentworth hits the mark. We are eager to serve the many drivers and other transport professionals who frequent the port, as well as the growing local community."
The location is a newly built, 2,100- square-foot clinic located on the Port Fuel Center property on the corner of Grange Road and Georgia Highway 21 near Interstate 95. The total investment in the facility exceeds $1 million and is expected to generate approximately 20 jobs in the community as its services grow.
Interstate Health launched in November 2022 and has since acquired Occupational Health Center in Cookeville, Tennessee, and opened a new clinic in Racine, Wisconsin. The Port Wentworth clinic is the company's first greenfield development and will serve as a model for future locations.
Interstate Health Port Wentworth is now open Monday through Friday from 8 a.m. to 5 p.m. local time. Services include Department of Transportation and pre-employment physicals, preventative care and wellness visits, vaccines, medication management and more.
[Related: New truck stop and CNG power push coming to Savannah port]
Pilot honoring veterans for Veterans Day
In recognition of Veterans Day, Pilot Company is extending its appreciation for military service members and their families by offering a complimentary meal at more than 750 participating Pilot, Flying J and One9 Fuel Network travel centers nationwide.
Additionally, the company is inviting guests to round up and raise funds to support the Call of Duty Endowment, a non-profit organization dedicated to assisting veterans in transitioning to successful civilian careers post-military service.
From today, Oct. 23 through Nov. 12, visitors at any participating Pilot, Flying J or One9 Fuel Network travel center can round up purchases to the nearest whole dollar. Pilot will donate 100% of the roundup proceeds directly to the Call of Duty Endowment. (Certain purchases, such as fuel and fuel additives and purchases made on fleet cards are not eligible.)
This year, the company is aiming to raise $1 million and will match donations up to $100,000 to help the Call of Duty Endowment place more than 1,600 service members and their families into successful careers. Since 2019, Pilot Company and its guests have raised more than $3 million in donations for the Call of Duty Endowment, resulting in more than 5,500 veterans finding post-military careers.
Over Veterans Day weekend, service members and their families verified through ID.me in the myRewards Plus app will receive a free meal credit valued up to $12. The Veterans Day offer can be claimed Nov. 10-12 through the myRewards Plus app and redeemed at participating Pilot, Flying J and One9 Fuel Network travel centers on a wide range of food and beverage options, including hot and cold deli items, popular snacks, fountain drinks, Pilot coffee and meals at participating on-site restaurants.
Any remaining balance from the one-time $12 credit will be reflected on the guest's receipt after checkout and can be used on subsequent visits during the offer period through Veterans Day weekend.