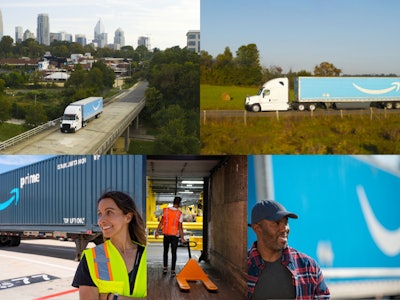 What is Amazon Relay?
Amazon Relay is a self-service portal designed for carriers and fleet owners of all sizes to find and book available work. Amazon Relay offers a wide selection of spot work and short-term contracts for fleets' equipment types. Carriers can access thousands of loads at any time, with quick and reliable payment options. Carriers set the pace, and Amazon Relay keeps them moving.
Dwight Fairchild from Commercial Freight Services, Inc., based in Detroit, Michigan, uses Amazon Relay because of its wide variety of load options saying, "Amazon Relay has something for everybody."
Access loads 24/7 with the Relay Load Board
With the Relay Load Board, carriers can view and book spot work for dry vans, reefers, box trucks, as well as port and rail drayage, 24 hours a day, 7 days a week – all without having to pick up the phone. For carriers without a trailer, Amazon offers a wide variety of power-only loads so they can save time and money by hauling Amazon trailers.
If a carrier would rather not monitor the Relay Load Board 24/7, Amazon offers Post a Truck, where carriers can share available capacity for up to two weeks in advance. Carriers set their requirements, including origin, destination and rate, and Amazon will automatically match them with loads that meet their criteria.
"If you are an owner-operator, Post a Truck is your dispatcher," said Adis Danan, owner of the Phoenix, Arizona-based JoyRide Logistics. "Post a Truck allows an owner-operator to stay on the road without having to worry about searching for their next load."
Secure consistent work with short-term contracts
If a carrier is looking to have consistent and reliable work for its drivers, Amazon Relay's short-term contracts offer week-long blocks where carriers can lock in rates weeks in advance. With short-term contracts, carriers have access to power-only, one- or two-day routes with a solo driver or team routes. Carriers also do not have to book additional work to get drivers back home, as short-term contracts provide roundtrips.
"Short-term contracts allow consistent work throughout the week for my drivers," Fairchild said. "By using the driver app, my drivers know exactly where they are going, and I do not have to think about how to get them back home. With short-term contracts I haven't had to worry about deadhead miles or keeping track of hours of service because Relay does the work for you."
Bid preferred rates with Auctions
Carriers use Auctions to bid their preferred rates on trailer-required contracts with transparency into the current lowest bid and auction close timing. Trailer-required contracts are available to carriers that meet certain asset count requirements and attend a short virtual training.
Danan with JoyRide Logistics likes the simplicity and transparency of Auctions. "With Auctions you have the ability to be a part of the action during the bidding process," he said. "When a lane is up for bid, you have the visibility to make an educated decision based on how other carriers are bidding for that lane."
Unlock special discounts with Relay Rewards
Relay Rewards are designed to celebrate and reward hardworking carriers. Once onboarded, carriers can unlock early access to loads, as well as quicker payment options based on performance. Relay Rewards also offers special promotions and discounts on critical operating expenses including fuel, tires, maintenance, insurance, and more.
Get started with Amazon Relay
To join Amazon Relay, click "Get Started" on Amazon's website. Carriers with an Amazon Prime account can click "Sign In" and use their Prime account username and password to start the application process. For those who do not have a Prime account, click "Create your Amazon account" to start a Relay application.
Amazon also has a frequently asked questions section regarding all things Amazon Relay and more guidance on how to join.