Though the FMCSA's just-published limited-mandate and performance-standards rule for electronic onboard recorders (EOBRs) for logging did next to nothing to open up the market for tools beyond the paper log and expensive devices tethered to the truck's ECM, smartphone applications with similar functionality continue to proliferate.
The UDrove app and online storage service, released earlier this year (functional on iPhone, Blackberry and Android devices) enables owner-operators to log hours, track mileage for tax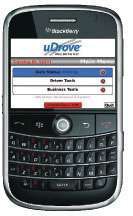 purposes, record fuel and business expenses, and electronically submit reports and documents. The application can be used in conjunction with the online system to allow load tracking for operators' shippers and receivers in real time. And the service's subscribers can visit www.uDrove.com to access compliance and business activity information that is transferred directly from the smartphone application.
Applicandy, a startup mobile software development firm, released their debut application, iLogMiles (log history screenshot pictured below), which will provide drivers with relatively similar resources when making critical business decisions. iLogMiles enables truck drivers to quickly generate and display daily log records, and analyze other important historical data from their iPhone.
Smartphones have increasingly become popular among drivers for their versatility and relatively low cost. Users can access the internet, map locations, email clients, and download an arsenal of applications with a single device. According to information technology research firm Gartner, Inc.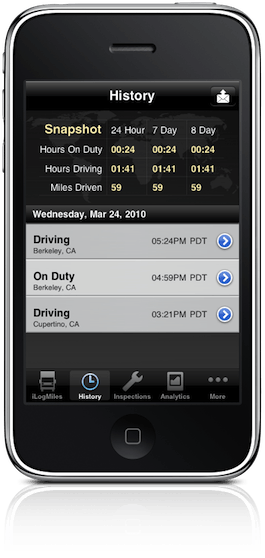 , the number of smart phone application downloads is expected to dramatically increase over the next few years. Says Applicandy co-founder Bryan Hinton, "As the use of mobile applications increases and the devices they operate on become more powerful, we are going to see businesses invest less in expensive, hardware-based systems when the same tasks, and more, can be accomplished with the phone."
If you've got a smartphone, you might at least try these apps' trial versions to see whether they can reduce paperwork and otherwise save manual logging/filing time. Independent owner-operator Terry Angleton of Omaha, Neb., reports the paperless filing benefits of the UDrove app and service are saving him weeks at quarterly tax time.
Using the log function won't get you around the regulatory requirements of the paper log environment, as the apps and devices don't fit the federal definition of an EOBR — you'll still need to be able to print your log history for an officer, from the phone or from your laptop via, for instance, your data-storage account at the UDrove website. All the same, says UDrove rep Katie Moser, more and more, as DOT officers gets used to electronic log displays, practically the need to print is going by the wayside. (Angleton still runs with a printer attached to his laptop in his truck.)
"And new smartphone applications are getting people outside the boundaries of their traditional logging," Moser adds, pointing to preliminary results of a survey that asked more than 100 owner-operators what exactly they wanted to be able to do with their smartphones. "Among the entire base, 32.8 percent said being able to log was most important."
Looking into the crystal ball, Moser says, "as far as goes the technology of the phone and the networks and the capabilities, we are making it all work with uDrove today. It will get exponentially better in the next two or three years. We're at a crossroads with the CSA 2010 system coming in — there will be more pressure on owner-operators, drivers and fleet managers to have systems in places where records are easily visible." Logs included.