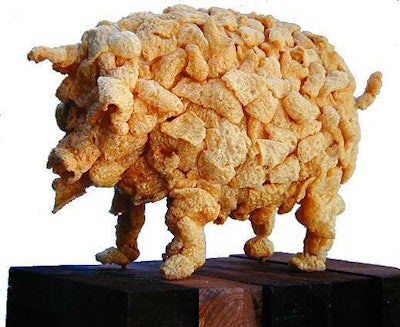 Add pork rinds to a haul in the Pacific Northwest and you might find yourself with a sore foot and back and a charge of "driving with wheels off the roadway," or such was the case for a Mt. Vernon, Wash., hauler in July, Washington State Trooper Keith Leary told reporters at the Bellingham (Wash.) Herald. And that's not to mention the expensive tow the 42-year-old Mt. Vernon, Wash., truck driver no doubt had to have called in for the 2005 FedEx Freightliner he was driving before choking on spicy pork rinds and jackknifing off I-5 in July. Unlike similar incidents documented here earlier this year, the crash was not followed by mainstream media calls for bans on commercial drivers eating behind the wheel.
The trucker, and others in the roadway at the time of the accident, were OK.
The sculpture pictured here is the work of Stuart L. Wagner. Check out more at www.porkrind.com.
Lucinda Coulter contributed to this report.