When Marten Transport driver and 3 milion safe miler Candy Bass (pictured) saw a documentary on the Walter Reed Army Medical Center a few years ago, she was so affected by the scenes detailing the lives of wounded veterans that she determined to do her part: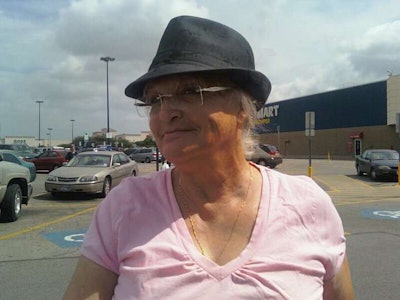 1) She wanted to do something that would be of practical benefit to soldiers dealing with the personal physical legacy of service to the country, and 2) Perhaps more importantly, she wanted to send a message, "to let them know that there's somebody out there who cares about them," as she puts it. As the war goes on, the national media's focus on the soldiers still fighting often diverts attention from the needs of those who've paid a big price, she adds. "I wanted to let them know we didn't forget them."
Launched "four or five years ago," Bass says, with the assistance of then recruiting director at Marten Transport, Tim Ridley (now with Dave Nemo Entertainment), and other drivers, Bass' program of hat donation to Brooke Amy Medical Center in San Antonio via Fort Sam Houston's Army Community Services office today has achieved success to the point of donations well exceeding hoped-for levels. With the help of a group of Special Olympians in Grand Island, Neb., and the American Legion in nearby Gibbon,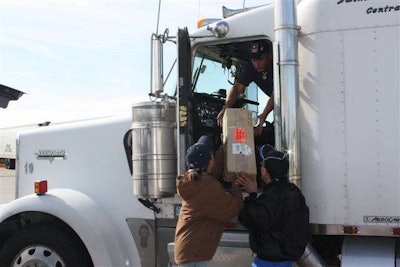 more than 1,500 caps have been collected this year. About 850 of them were picked up in Grand Island last week by owner-operator Howard Salmon (pictured), an associate of Bass' you'll no doubt be familiar with if you're a regular Channel 19 reader.
The Grand Island Independent newspaper chronicled the pickup, and for Salmon's part, he's storing them in his upper bunk and actively looking for a load that will get him within the vicinity of the caps' final destination in Texas. "If I hit the brakes too hard I'll have an avalanche," he jokes about the sheer volume of caps this year. And for Candy Bass, Salmon, a former serviceman in the United States Air Force himself, has nothing but praise: "When there's something ever that needs to be done, she's one of the first to be helping. She'll give the shirt off her back to help anybody — she loves trucking, and she loves the truckers."
Though Bass has some leads, she still needs a hauler for the final load of hats from Grand Island to San Antonio. If you're able to lend a hand — and have a little extra room in the sleeper — look Bass up on Facebook or write here and I can help put you touch.
Read the full story about Salmon's pickup in the Grand Island Independent.