Volvo Trucks is offering customers the experience of a lifetime at the company's New River Valley manufacturing plant in Dublin, Va., a little more interesting with the addition of a severe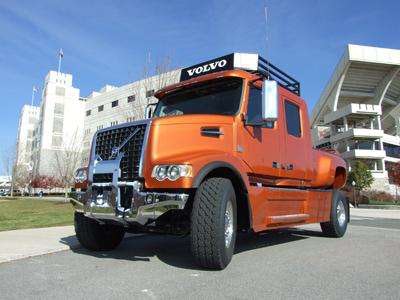 service model VHD built in modified pickup truck form.
The bright orange, one-of-a-kind Volvo VHD chassis has a full-size crew cab and a pickup bed. The four-door, five-seat vehicle is powered by an EPA 2010-certified 500-hp Volvo D13 engine and features an I-Shift transmission. It was designed and built by a team of engineers and production operators at the New River Valley plant and, the truck makers say, stands as an example of Volvo's innovation and craftsmanship.
"Volvo is known for high quality and innovative technologies," said Patrick Collignon, vice president and general manager at the New River Valley facility. "The VHD pickup shows the depth of our capability and versatility, from the engineering to the design to the craftsmanship."
Volvo plans for the vehicle to make the experience getting around the large New River Valley site unforgettable for customers and visitors. They get a first-hand sense of Volvo truck comfort and performance as they tour the facility or are transported to and from the local hotels and airport.
"We spend a lot of time educating customers about our technology – how it works and the value it brings," said Ron Huibers, senior vice president of sales and marketing for Volvo Trucks North America. "But explaining how impressive the I-Shift technology is, for example, doesn't replace the driving experience. The new VHD with I-Shift pickup allows people who are not professional drivers to experience the technology for themselves."
And for those who are, I imagine driving the custom truck might be quite a little thrill. If you're making a visit to the New River Valley plant, be sure to ask about the ride-and-drive option. Find details about the facility.