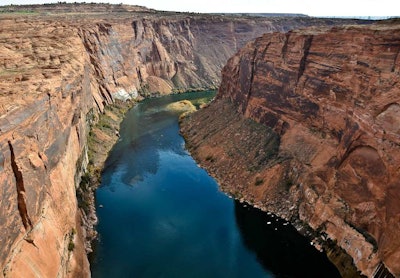 This stunning view off the U.S. 89 bridge over the Colorado River near Page, Ariz., was shot by Gordon Trucking company driver Ron Nikirk, based in Oakland, Ore. Gordon becomes our fifth winner since we launched the contests in July via The Photographer: Truckers News Photo Group on Flickr.com, a development that followed nearly three years of slow build in group membership. Membership levels continue to rise, thanks to your interest in the contests and generally growing exposure, no pun intended, among the legions of trucker-shutterbugs out there.
Thanks to all who've joined, whether you've entered the contests or not. Some of the other entries this time round were so good I thought I'd share them here in a sort of runners-up hall of fame, if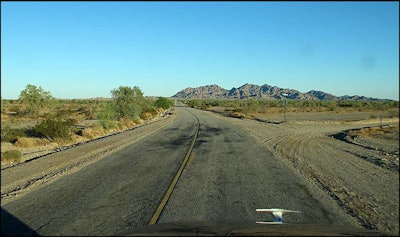 you will:
Redding Lumber Transport-leased owner-operator Chris Hanna, whom we've featured in the past in the magazine, offered up this view through the windshield of a perhaps somewhat lesser-known, seldom-used alternate route on the haul between Washington State and the Mexico border at San Luis, Ariz. It's S34 between U.S. 78 in Glamis, Calif., headed south to I-8 west of Yuma, Ariz. "The road cuts out an hour compared to going all the way west on highway 78 to Brawley, Calif.," says Hanna, "and then south to Interstate 8" just to eventually head back east.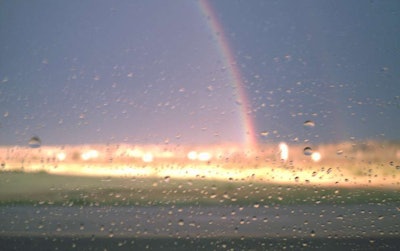 And here's South Carolina-based TransAm Trucking (of Olathe, Kan.) company driver Karen Morris' unique view on a "golden city," she notes, at the end of a rainbow — I love the in-focus foreground, the way water drops on the windshield bring the photographer's situation, looking out onto beauty, into perfect clarity. (It's not quite a double rainbow, though, is it? You may recall stories of former truck drivers of yore.)
And, finally, longtime photo group member James Summers, an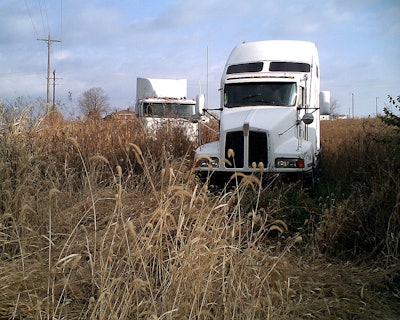 owner-operator based in Eldon, Mo., and leased to Cord Moving and Storage of Earth City, shot what he calls the "truck graveyard" at his home. Rather reminiscent, isn't it, of the picture gracing this book's cover, a future prize book in our contests. Get over to The Photographer: Truckers News Photo Group and join up to compete. This month's theme? Pets and other Animals/Wildlife, attendant to our December "Creature Comforts" cover story on ridealong pets.