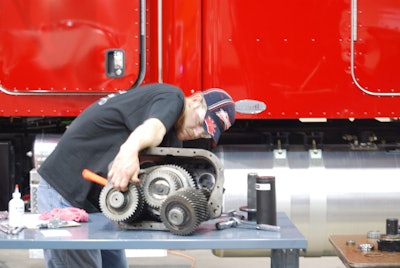 I'm in San Antonio, Texas, this morning at the site of Rush Truck Centers' fifth annual Tech Skills Rodeo, which pits 65 (out of more than 700 entering) of the truck dealer/service center network's best diesel technicians against each other and a set of bugged vehicles. On the heavy-duty side of the competition, 15 techs each trying to beat the clock in Cummins, Caterpillar and Eaton categories — with 45 minutes to troubleshoot rough running and low power as well as a clutch out of adjustment (among other things) — were reduced to the top three in each category, and will compete today for further cash and prizes. See below for a gallery of images from the competition.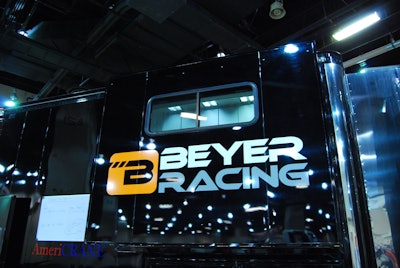 The listed techs below all receive $3,000 in cash and a $1 permanent raise in their hourly rate, a great reward for excellence. Finalists in the competition today will take home even more, an overall grand champion among medium and heavy duty finalists walking away with the biggest prize of all.
Among the many highlights of the two-day event, including informational displays from suppliers such as Stemco, Mobil Delvac, the Paccar MX trailer, and more, is the racing simulator of GrandAm
Nationals racer Jared Beyer. Beyer Racing is hosting a "Race for Cash" competition, the prize being $250 cash in two division, technician and guest/supplier.
The top two winners then move on later today to a "Five Lap Shootout" for the final $750 prize.
Technician finalists:
Heavy Duty:
Chris Zweifel, El Paso, Texas
Erick Lincoln, Albuquerque, N.M.
Jason Morris, Flagstaff, Ariz.
James Collins, Ft. Worth, Texas
Shawn Thornton, Alice, Texas
Ted Mazurkiewicz, Pico Rivera, Calif.
Brian Noska, Sealy, Texas
Chris Jensen, Houston
Jason Swann, Dallas
Medium Duty:
Billy Stanley, Houston
Gabriel Benavides, Fontana, Calif.
James Glover, Houston
Mathew Pogue, San Antonio
Michael Hartz, Denver
Richard Nonamaker, Waco, Texas
[imagebrowser id=12]