Since I blogged about musician Susanne Spirit's weekly shows at the TA East in Ontario, Calif., back in March, Spirit has continued to make great strides in combining her trucking-music act with her concern for the welfare of abandoned dogs in kill shelters. Her "Musical Truckin' Dog Adoption Program," conducted in concert with the Ramona Animal Shelter of Riverside County, Calif., in just a year, all told, has matched near 500 dogs with truck drivers at the TA location. Her weekly Tuesday shows typically include a program for truck drivers looking to adopt a dog.
"We've had days where 13 dogs have been adopted," Spirit told me when I was writing the story about her in the current edition of Truckers News. "We average about 8 to 12 every show, and every one of them is because a trucker has said, 'I'll take this on,' and they do it with such integrity. When that strong arm embraces that dog, you see a miracle happen."
Spirit blogs fairly regularly about the adoption program's efforts and successes in her own corner of the Southern California Press-Enterprise. In October, she detailed a second connection made to the Beaumont, Texas, animal shelter that was the provenance of the program's current mascot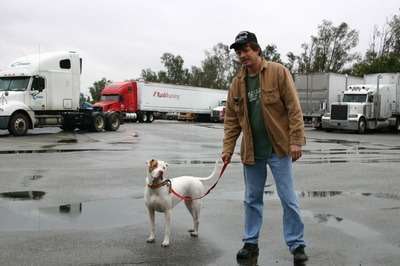 dog, Spirit's own Jackson. A one-year-old female pit bull named Delilah, Spirit wrote, after being transported from Beaumont to Spirit's program partly with a truck driver, then on a U.S. Army vehicle, found its ultimate home in the cab with the long-hauler, Charles, pictured here (with Delilah).
Spirit describes the circumstances of Delilah's adoption as nothing short of miraculous, "beyond a miracle":
Charles, a trucker from Florida, had dreamed of owning a dog just like Delilah. Little did he know his dream was about to come true. He was delayed in a miraculous and strange way at the TravelCenters of America-East this past week in Ontario where we were meeting this precious animal coming from Ft, Lewis, Wash.
I was standing inside the store waiting for her arrival and holding her picture in my hand. It was raining heavy outside. I was just hoping to find her a good home, even though it was not one of our regular show days, because fostering her here in California was going to be a challenge. Charles walked up to me and, seeing the photo of this gorgeous dog, he asked me if that was my dog. I told him no and then he said, "That is the dog I dream of owning someday."
Read the full story on Spirit in Truckers News.
Read the Truckers News pets cover story in this month's digital issue.
Road songs redux
Thanks to all who sent along their picks for best road song after my Monday post about the Pioneer Electronics top road-trip tunes survey. My fave? As do others, you'll see in the little list below, I'd say it all depends on the weather. For the kind of dark, wet, cold business we've seen here in Nashville of late, I might go with something like Stevie Wonder's "Tuesday Heartbreak" or, switching genres, John Coltrane's bright and expansive version of "My Favorite Things."
Here's what a few somewhat familiar faces had to say:
Keys Trucker James McCarter: "Radar Love is my fave… (driving all night, my hands wet on the wheel)."
Canadian Tom Balaz: "I will often play Led Zeppelin's Carouselambra, Achilles Last Stand, or Kashmir on the road. I don't have a favorite per se, but I do love classic rock, especially those tracks rarely played on the radio."
Truckers News 'Marathon Trucker' Jeff Clark: "Jimmy Buffett's Fins during a winter storm."