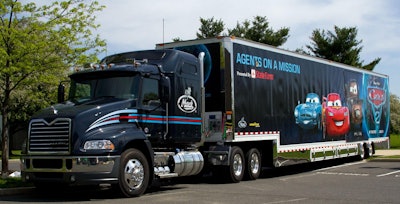 A Mack Pinnacle tractor is leading the way in State Farm's "Agents on a Mission" tour for the Cars 2 movie from Disney-Pixar, which hits theaters June 24. It stopped in early May in Allentown, Pa., to show off life-size models of three of the film's main characters – Lightning McQueen, Mater and, new to Cars 2, British super spy Finn McMissile – each roughly fifteen feet long, about seven feet high and weighing between 1,760 and 2,700 pounds. The first Allentown stop took place at Mack's new 160,000 square foot Customer Center off of Lehigh Street for Mack employees, dealers, customers, local leaders and their families.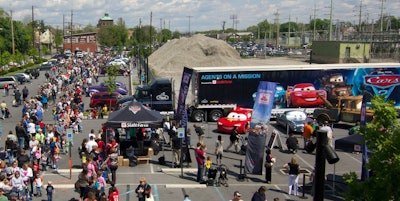 The following day, Mack brought Lightning, Mater and Finn to the America on Wheels museum on Front Street, where the display was available to the general public.
In the new film, star racecar Lightning McQueen (voice of Owen Wilson) and the incomparable tow truck Mater (voice of Larry the Cable Guy) take their friendship to exciting new places when they head overseas to compete in the first-ever World Grand Prix to determine the world's fastest car. The character based on a Mack truck – appropriately named Mack (voice of John Ratzenberger) – is Lightning McQueen's trusted long-haul driver.
The State Farm "Agents on a Mission" tour promoting Cars 2, which kicked off March 10 at the Minneapolis Auto Show, hits Los Angeles for the film's red-carpet premiere on June 18, and will have stopped in more than two dozen U.S. cities before wrapping up in Northern California in late June.
The fuel-efficient Pinnacle Mack has provided to move the tour around the country features advanced safety technology and the company's ClearTech system, which reduces levels of regulated emissions to near-zero. Mack also provided a truck for the tour promoting the 2006 release of Disney-Pixar's Cars.
"What better truck to lead this tour across America than a Mack, built in the U.S., with the cleanest emissions in the world?" said Kevin Flaherty, Mack senior vice president, U.S. and Canada. "We're particularly pleased to have brought the tour to the Allentown area, which has been Bulldog country for more than 100 years. Every truck we sell in the U.S. is produced here, at our Macungie Assembly Operations. The Mack Customer Center gives us a powerful new tool for showcasing our industry-leading products and storied history. It's to this region that we continue to bring customers for the true Mack brand experience."