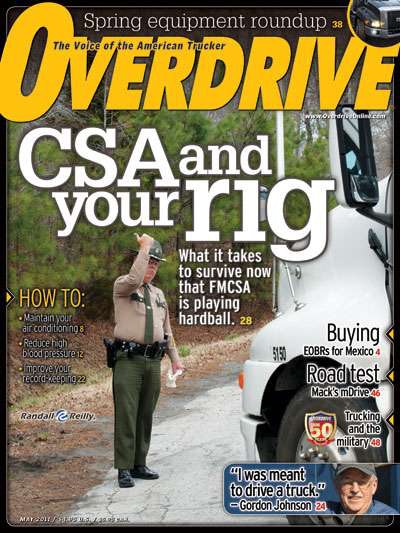 I met Robert Shumate researching my two-part feature on the Federal Motor Carrier Safety Administration's Compliance, Safety, Accountability program, in the April and May editions of Overdrive. In the vid, selected from the in-person portion of our interview, conducted at the Rush Truck Centers location in Nashville where Shumate had stopped in on his way home to Union City, Tenn., to visit with dealer personnel, Shumate echoes many owner-operators in his position, leased to a carrier, with reservations about the level of accountability CSA's roadside data profiling is placing on drivers. Particularly, as he notes, tire and light problems associated with company-owned trailers, found during roadside inspections, will appear in Pre-Employment Screening Program records associated with owner-operators, though responsibility for trailer maintenance ultimately lies with the carrier, not the owner-operator.
Shumate (pictured), fortunately, he says, today owns the reefer trailer he totes behind his Peterbilt (also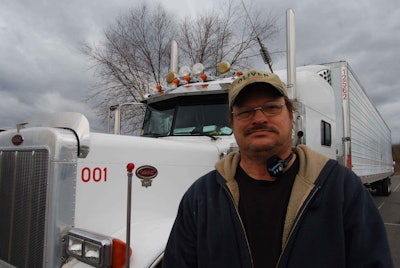 pictured), and his case presents two of the necessary courses owner-operators can take to lessen impact of the Vehicle Maintenance CSA category:
Taking full responsibility as much as possible for maintenance, even on company trailers, will keep marks on inspection reports to a minimum and, particularly if you don't own your trailer, have the added benefit of demonstrate your worth to the carrier. It's important to do your homework selecting that carrier, too, as Shumate notes. He's leased to Crystal Refrigerated Express, the trucking business of Union City's Williams Sausage. "When we come in on the yard, [Williams has] a shop there," he says. "Even with me and my trailer, they'll tell me, 'You've got a tire that's weak on the tread, you've guy a light out on the trailer.' Things we can head off."
In other words, they return the favor, well demonstrating their worth to him in the maintenance area, more and more important in the CSA era. In any case, enjoy the vid talk with Shumate below. And read part 2, the full feature on "CSA and your rig" in this month's Overdrive, for a comprehensive approach to maintaining your rig for good safety measurement results. Find part 1 in the April issue.
[kaltura-widget wid="b7rizqvgn4″ width="400″ height="365″ addpermission="" editpermission="" /]