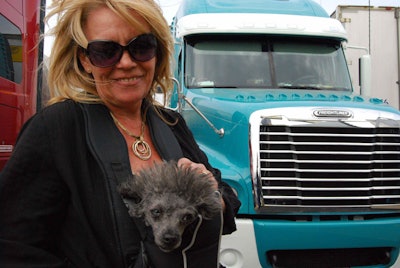 Last time I saw Keys Truckers Jan (pictured, with Rocky) and James McCarter they were right here in Nashville for the grand reopening of the downtown TravelCenters of America location, which had been closed since the flooding last May. Today, the Keys sent word out I thought Midwest haulers may well be able to act on. They posted to their website that they'll "be arriving at the Oak Grove Petro" with their "Truckers Tracks Touring America" Freightliner (also pictured) at I-70 exit 28 in Oak Grove, Mo., this Friday, May 27, "to begin loading donated items in a 53-ft. trailer" to haul for relief to those affected by the Joplin, Mo., tornado I posted about yesterday. They're requesting particularly "non-perishable food, clothing, bedding" and other items.
On Saturday, they note, "We will be going to Patricia's Foods" in nearby Grain Valley — 201 SW Eagles Parkway, 64029 — to load more donations there. They'll be back at the Petro that night as well.
You can always expect drivers, owner-operators and all manner of fleets to step up to the plate when disaster strikes. Just as it was several weeks ago in Alabama and across the Southeast, so it will be in Joplin.
Hurricane season webinar tomorrow
Those among you with an interest in weather prediction and preparedness might take advantage of a webinar tomorrow hosted by the folks at EarthNetworks.com about the upcoming hurricane season, led by Dustin Devine, a WeatherBug meteorologist. They say, "To help prepare for what the WeatherBug Meteorology Team expects will be an above-average hurricane season, this webinar offers the ability to learn more about weather predictions for the upcoming season and how the forecast may impact various sectors, including energy and utilities. The webinar will also include an interactive question-and-answer session."
It's set for Wednesday, May 25, at 11 a.m. Eastern. Registration is generally open to interested parties via this link.