Happiness
There's no other way to describe this picture, eh? It's Virginia Kirk, general manager of the TA C-store and fuel islands in Nashville, Tenn., during the location's grand reopening last week. It's "awesome" to be back up and running, she told me Friday after being closed for nine months.
Kirk's addition of the "Welcome to Music City" tag above the front door into the stop, made prior to the flooding, resulted in the Music City thematics of the stop's redesign. If you missed the pictures of the tasteful interior in my last post about the stop, hit that link for photos.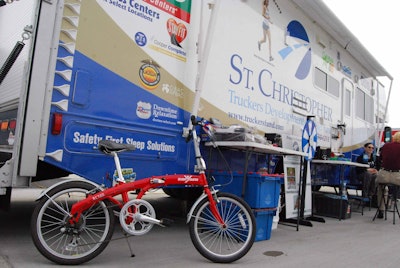 In addition to musical performances by local musicians throughout the grand opening week in the restaurant, Aaron Tippen was scheduled for a performance Friday and on hand near the fuel islands was the Medical Educational Resource Vehicle of Safety First Sleep Solutions of Ohio, operated by former hauler and military medic Jon Osburn (that's Osburn's folding bike in the picture, identical models available at OOIDA's business offices in Missouri for $299). Osburn detailed for me plans for, in cooperation with TravelCenters of America, the addition of an exercise equipment trailer to the MeRV to complement the health screening services available to drivers via the MeRV (pictured in Nashville). The mobile equipment would complement the exercise rooms TA/Petro locations are already adding on I-40 and I-95.
Watch for the MeRV on the road. Its current services include blood pressure, pulse rate and blood sugar readings; A1C and sleep apnea testing and screening; and medical education otherwise. Check out the Safety First MeRV page for more or tune into Dave Nemo's show in the morning on Road Dog Trucking for details about its current location.
Seeking 'World's Toughest Truckers'
United Kingdom-based producers from Dragonfly TV are looking for "intrepid truck drivers from around the world to take part in a new series. "World's Toughest Truckers" will pit highly skilled truck drivers from around the world against each other in a competition of skill, pace and mental strength on trucking routes that include some of the world's most infamous roads and hard-to-handle cargo. To be filmed between June and August this year, the series requests potential candidates for participation contact them at truckers@dragonfly.tv. Visit their site for more of their work.