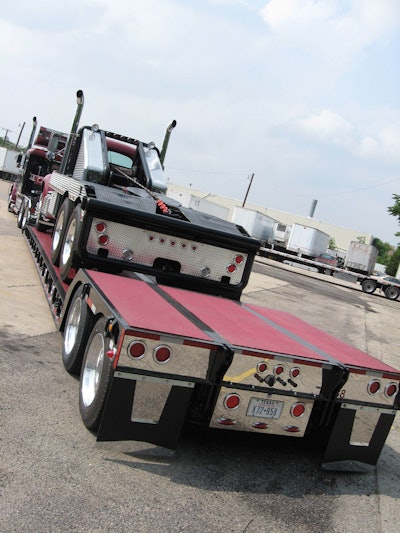 You might remember Jeff Hardage, owner of the J&C Investments small fleet, based in Garland, Texas, if you've been paying any attention whatsoever to the news coming out of the Pride & Polish competitions at the Great American Trucking Show in Dallas the past several years. Most recently, I wrote about Hardage's son Eric's 1963 Mack B83 with a winch body, itself Jeff's own father's truck from the generation prior, in the December issue of Custom Rigs.
And Hardage wrote me late last month with more news, potential plans to show in the combo class at GATS this year with both his 1986 Peterbilt 359 and the B83 (pictured together), on a newly reworked RGN trailer (also pictured) he and his crew just finished up. Says Hardage, "We had the trailer built [in 2004] for hauling the B83 as well as freight. It is a fully self-contained hydraulic detach, with a 30-foot well. This past winter we painted it with PPG automotive-quality black to get some depth out of the paint, reworked the floor and painted that with tintable truck bed liner in maroon."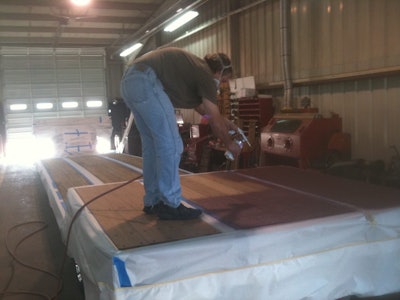 Also new for the trailer are tool boxes in the neck and a chain box in the floor, with a stainless cover over the motor, moving the controls out to the side for access from ground level. "Tons of lights and stainless," Hardage notes, finished it out. Asked about the bedliner sprayed on the wooden parts of the deck, he adds, "I had not seen it done before. I was looking for something durable that would hold the paint and protect the wood and knew how well the stuff works in my pickup on metal, figured I would give it a shot." He mixed a little thinner than normal "so as not to create a really rough surface that would hold a lot of dirt. Seems like it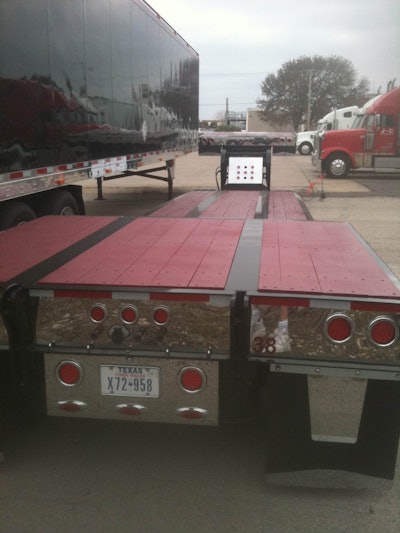 turned out all right. Better on the new wood than old."
Other lessons learned from the trailer work have to do with painting heavy iron with slick paint. "It shows every wave and dimple in it," Hardage says. "I think we have balanced it well enough so as to take the lines away from the imperfections OK. The trailer lights up nice at night, and now the lights on the back of gooseneck match the back of the trailer. Put an "H" in back gooseneck in lights as well. Really eye-catching going down the road, especially as a unit with the Mack, Peterbilt and trailer all painted to match."
I hope I get to see it in person at GATS this year. You?
As a side note, the Great West Truck Show is happening now in Las Vegas. If you're headed that way, don't miss the Partners in Business seminar, put on by Overdrive and ATBS, with Kevin Rutherford, Friday afternoon at 2 p.m. More details here.