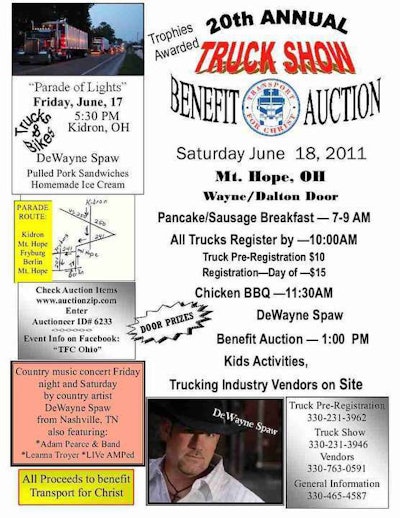 The Transport for Christ organization's efforts to connect with and spread the good news to and of the trucking industry extends far beyond their mobile chapels and efforts to unite drivers in the fight against humna trafficking, which I wrote about several weeks ago. They're rewarding the greater community of drivers and owner-operators again this year with their annual truck rally and show, coming up this weekend Friday and Saturday, July 17-18, in Kidron and Mt. Hope, Ohio.
The event includes a Truck and motorcycle "Parade of Lights" Friday that, last year, says a TFC Ohio rep on Facebook, was more than "two miles long… Can we double it this year?"
Vendor and sponsor opportunities, he reports, are still available. See the number on the show flyer, included here, for contact information, and visit the Transport for Christ website or find them on Facebook for more.