Queen of the road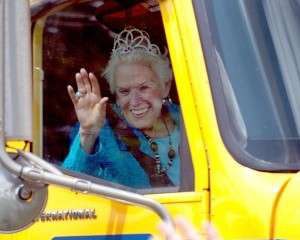 A story in the Doylestown, Pa., Intelligencer newspaper details the Twilight Wish Foundation's efforts to grant a long-haul wish to 82-year-old Margarette Kirsch. In late May, she set out of a 15-day journey from Philly to California and back to her Merritt Island, Fla., home with trucker Annabella Wood at the wheel, the culmination of events Intelligencer reporter Kristina Kristofic details in the piece. It's a fantastic look at a singular individual whose passion about trucking spans her long life, and an organization in Twilight Wish with a commendable mission "to honor and enrich the lives of deserving elders through wish granting celebrations that connect generations." Kirsch's own celebration coincided with her embarkation June 6. Watch for her on the road.
Click the thumbnail image of Kirsch, a photo by the Intelligencer's Rich Kennedy, here for the full story and photos from the celebration.
Horse powers down I-35 in Minnesota
Last week Tuesday a stallion named Coors escaped from its home in Columbus, Minn., and appeared to be channeling its inner Bandit as it spent much of its walkabout trotting along I-35 northbound and down during the morning rush hour. As reported the Twin Cities Fox affiliate, when owner Phil Tetrault "returned home from work and realized the horse he bought about a year ago was missing from his Columbus, Minn., home…a friend told him that he should check the news." See video and more from the incident at the Fox affiliate's website.