Yes, it was only a matter of time, I'd say, before a newspaper in the Great White North did a long feature on the potential impact melting sea ice in the Arctic and changing climate patterns due south of it could have on an important part of the Canadian economy — and our own television viewing.
The Globe and Mail, Canada's newspaper of record, in late May published a wide-ranging feature on global warming's impact on the 5,400 kilometers of ice roads used yearly to haul supplies to remote towns and mines in the country's extreme north. The prognosis is not great.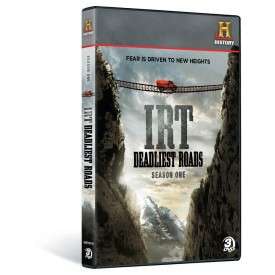 The story proceeded from the work of three U.S. scientists, whose climate models suggest that Canada will lose by mid-century "nearly 400,000 square kilometres of land accessible by winter road – an area the size of Newfoundland and Labrador," writer Nathan Vanderklippe reported. Find his full report on the study here.
The good news is the Ice Road Truckers television franchise of the History Channel continues unabated for now, documenting the journeys — DVD sets of all the seasons are available via the History Channel website, including most recently the last season (pictured), filmed in the Himalayas with veteran ice-roads and Dalton Highway haulers.
And how are you liking the current season? Live weekly since June 5, if you haven't seen it, check out James Jaillet's interview with one
of its stars in an Alabama hauler gone north for some cold weather trucking, Dave Redmon, who also participated in the Himalayan adventure.
This year's season brings stars of last fall's Himalayan adventure – Rick Yemm, Lisa Kelly, Alex Debogorski and Redmon – among others, back to North America to square off in a U.S. v. Canada duel. There are some added wrinkles, or lack thereof, in ice-road rookie Maya Sieber, a New York City resident with a passion for big rigs (pictured, left, with Kelly) and plenty of pluck to give the vets a run for their money. New episodes air Sundays at 9 p.m. Eastern and Pacific.