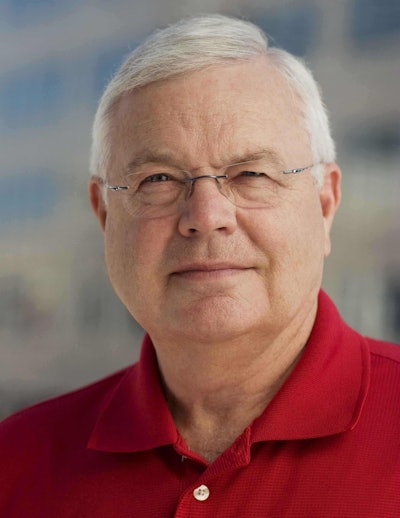 The online-auction model of the uShip.com system for retail freight is entering the commercial arena. Their new General Manager of Freight, Charles Myers (pictured), like you, is a veteran of that arena. While he's most recently served in freight projects in China, his background also includes the Presidency of commercial load board service GetLoaded.com. "I've been around quite a while in the transportation industry," Myers says. "I started with the Alabama Public Service Commission in the mid-70s, then went to the Interstate Commerce Commission," where he worked several satellite offices just before and after deregulation threw the industry into a time of challenge, before moving into the private sector with freight concerns.
All in all, in his role at uShip, he's overseeing a move to get more commercial brokers and shippers to conduct their carrier finding business in the transparent, online-auction format that uShip's technological platform offers. We talked just a week and a half ago. Asked about current truckload/commercial opportunities on uShip today, Myers was quick to note a relationship between uShip and Ritchie Bros. Auctioneers: "They approached us a couple years ago to bring their shipping under control. Right now, a little over 50 percent of the folks that buy at Ritchie Bros. auctions are using that on a regular basis."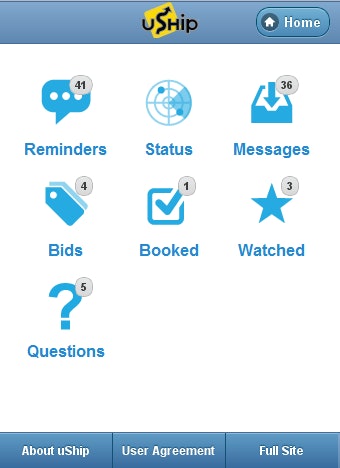 That relationship has been in place for more than a year, Myers adds, and more commercial freight is expected to be tendered via uShip going forward. "We have [the uShip marketplace] opened up to commercial brokers and shippers" currently, Myers says. "There is some freight moving through the site, though not a huge amount. We're currently working with brokerage customers, and some things need to be changed – we are working diligently to make the changes to the site so that it will be more aligned with the commercial marketplace. We're expecting that volume to continue to go up."
Below, find Myers' answers to questions about the future, and the advantages, of the uShip marketplace, one more independent owner-operators and small fleets may well find themselves using going forward. The interview followed my brief coverage of uShip's smartphone applications (screenshot pictured), available in the current issue of Overdrive, which enable load searching, bidding, and posting on most
smartphone applications.
Where is uShip in terms of truckload freight?
Right now we're still in a transition. I think this is a natural transition from the retail marketplace. Over the last several years uShip has built some incredible tools that can be used – we're leveraging those tools and doing all the work to set the site up to work in the commercial market. We have a beta site up where we're starting to book truckload freight, and still there's a lot of work that we're doing. A good analogy – if you're looking at uShip like a load board, we're more of a marketplace, not really a load board at all. As is taking place in the retail sector, the transportation marketplace is starting to embrace technology in almost every form, the uShip marketplace will be a really important tool as carriers move forward in embracing that technology – we think this will make pricing more transparent.
Describe how the system works/will work.
It will be something like an eBay auction, where brokers will be able to post the freight and the offer price, making pricing more transparent. Carriers will like that concept. With GetLoaded, I can't tell you how many times carriers would call and say if the broker would just post the price, it would save me a lot of time. For an example, if the pricing is not what the market is at that current time, carriers can bid high for the load. We're hoping that the loads will be posted with an offered price, but if it's over a lane where there's a capacity issue – they can bid that load up in price, for an example. [uShip's fee structure for using the markeplace takes a small percentage from the amount when a load is tendered.]
What other advantages would this model bring to the commercial freight markets?
We really think this will be a time saver. When shippers and brokers actually implement this uShip platform, it will cut down on their costs – makes the tendering easier. Another key part of our platforms is our feedback and rating system. It gives the users of the transportation service a picture of how their transportation providers are doing. On the retail side, we saw that carries with a good rating would be more likely to use it more and more and increase their ratings. [Also, uShip is using TransCore's CarrierWatch service to ensure to shippers/brokers that verified commercial carriers are bidding on their loads.] We have algorithms set in underneath the system to help people visually see where the loads are, and we have shipment-building tools in place they can use. If you want to build a truckload in partial LTL loads we can display that along the route so that carriers can pick the loads to build that shipment.
How much of this capability will be available via smartphone applications?
We've got some pretty unique smartphone applications that enabling things such as allowing the shipper to actually track the load using operators' smartphones — where the driver can opt-in to the tracking. That really is a nice thing. A lot of operators don't have GPS technology in their trucks. A lot of the things that you can do on the website – search, acceptance – a lot of that is programmed into the phone application.
For more, visit uShip's commercial freight page.