File this under "lessons learned," folks.
On May 9, 2011, after an afternoon loading cars in Shreveport, La., car hauler Marc Pogrebneak wheeled over to the Petro off I-20 for a quick shower, dinner and a call to his wife. He was set to roll into West Texas to stage near his load's destination, and after a walk-around inspection of his truck, he set off. All seemed routine.
But when he made his destination and got out to do his post-trip, he realized he'd experienced something he felt couldn't be the result of simple human error or mechanical failure — his suspicions are of foul play. A safety pin securing the rear upper deck of his trailer had been pulled, and the circumstances put responsibility for the damage that resulted solely on him. He was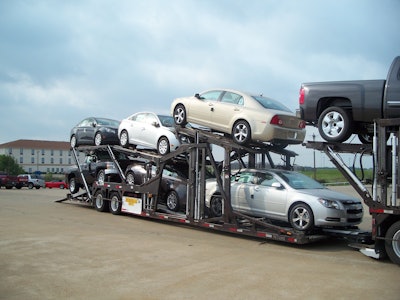 sidelined from what amounted to a "dream driving job" as far as he was concerned. Fortunately, he'd been taking pictures of his loads as a self-instruction tool in the complicated business of car loading, and after he presented photographic evidence of the pin's proper placement prior to embarking on his trip, his carrier put him to work in the back office. But his hope for a quick return to a truck might be slim.
At issue were two badly damaged autos, a brand-new Chevy Silverado and Cruze, respectively, that were partly crushed under the weight of cars on the back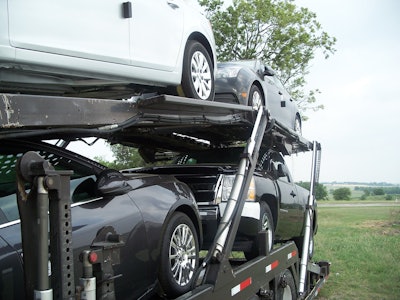 deck, as you can see in the pictures.
All in all, Pogrebneak says, the cargo claim "cost them $60,000," and he adds that he takes several lessons away from it all, chiefly to take every safeguard possible to prevent tampering with the load. Porgrebneak had left the power switch to the PTO that operates the trailer's hydraulics on. "If I had that switch off, there'd have been no power to the back," he says, and there would have been no way for anyone to pull the pin.
"This brings my awareness up higher," says Pogrebneak. "Every time I stop I will check every inch of that truck."
For others, he notes, "it doesn't matter if you're pulling cars or dry vans. I saw something happen three years ago in Abilene, Texas. I saw a guy who lost his trailer after someone pulled his kingpins."
Fortunately for Pogrebneak, his fleet manager recently told him they wanted him back in a truck. "It's starting to get positive," he told me.