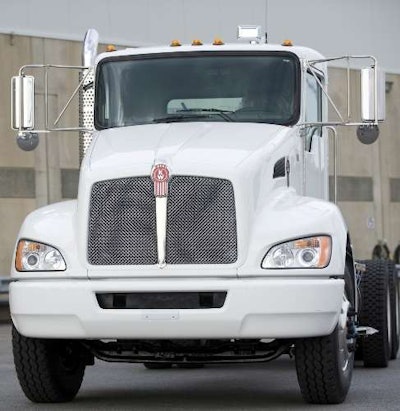 A Kenworth T370 was recently recognized as the historic 100,000th medium duty truck produced at the Paccar's Ste-Therese, Quebec, manufacturing plant. The plant, which opened as a brand-new facility in 1999, has clearly been hard at work during that time in the medium duty space. "The employees at the Paccar Ste-Therese are especially dedicated to building excellent medium duty trucks," said Marilyn Santangelo, Kenworth assistant general manager for operations. "We're especially honored that a Kenworth T370 is the 100,000th medium duty truck to roll off the production line over the past 12 years."
Santagelo put out a big thank-you to all customers who've purchased trucks built there.
The milestone vehicle is a new T370 6×4 tandem tractor produced for longtime KW customer Altec Industries, a leading manufacturer of aerial lifts, derricks, truck-mounted cranes and specialty equipment for the construction and contractor, electric utility, telecommunications, and tree care industries. The Altec T370 features a Paccar PX-8 engine rated at 300 hp with 1,000 lb.-ft. of torque at 1,400 rpm, Allison 3000RDS 5-speed automatic transmission, and Dana Spicer's D1600 16K front axle and DSP41 40K tandem rear axle. Altec plans to equip the T370 chassis with an aerial lift bucket for sale to a tree care company. The selling dealer was MHC Kenworth of Kansas City, Mo.
Kenworth reps trumpeted the achievements of the Ste-Therese plant in earning the prestigious International Standards Organization (ISO) 14001:2004 certification for effective environmental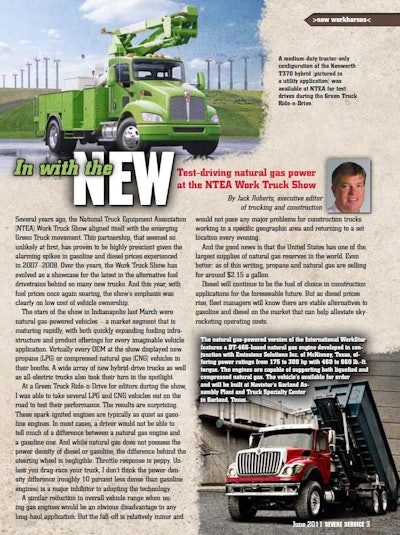 management systems established to help build trucks in an environmentally sustainable manner, IS0 9000 quality assurance certification, and OHSAS 18001 health and safety certification.
The T370 was featured (top) on the pictured page from the June edition of the Severe Service supplement to Overdrive, illustrating a story by Jack Roberts detailing developments in the alternative-fuel-powertrain space on display at the Work Truck Show in March. The T370 pictured on this page view is one with a utility lift body — at the show, a tractor-only version of the model's hybrid drive version was available for Ride-n-Drive demo. Click on the page above for more coverage from the Severe Service issue.