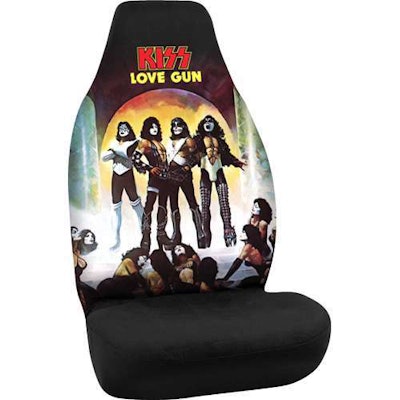 The Bell Automotive company is now offering seat covers that bring to mind my teenage trips to Myrtle Beach, S.C., state of my rearing, when I spent several years infatuated with the many (and I do mean many) t-shirt shops specializing in the heavy-hair-metal bands of the day. Some of those shirts survive buried in drawers in my house, and just looking at Bell's new line of seat covers makes me, alternately, cringe and revel in the over-the-top gaudy joy of another time.
The Rock-n-Ride line of seat covers include the following artists in the initial collection: AC/DC, KISS (pictured, but of course), Ozzy Osbourne, Lynyrd Skynyrd, Judas Priest, Run-DMC, The Who and ZZ Top. Also, some more recent fare: Lil Wayne.
The covers are "made of 100% Microfiber and include a foam backing for extra cushioning," the company notes. They claim to be universal, but truck seat armrests may well complicate their implementation.
No word on what they'd do for your cost-per-mile, much less revenue-per-mile.
You can check them out via http://bellautomotive.com.
Related story: Smokin' Joe in Overdrive is a record that I'll hold up against any of the better-known 80s rock 'n' roll, recorded originally in 1989 by owner-operator Joe Lee Smith and recently rereleased. Check it out here.