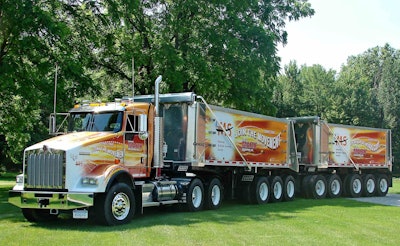 For almost half a decade, the Champagne & Marx Excavating excavating company, of Saginaw, Mich., has been hauling Michigan Specials — double-dump trailers capable of transporting 50 tons of payload — with a fleet of Kenworth T800s for road prep, foundation digging and other commercial and industrial projects.
But, the company has also long been a big contributor to the fight to combat Multiple Sclerosis, in 2011 raising enough money for it to rank fourth in Michigan in MS fund-raising, according to the company. Second-generation company president David Marx approaches that fight personally — his daughter, Christine Davis, a company vice president, deals with the condition day-in-day-out.
They've recently outfitted a 2012 T800 daycab and doubles (pictured, above) with a special graphics package, working with Central Michigan Kenworth in Saginaw, that reflects the company's commitment to raising funds for MS research. "Join the Movement" is splashed on one trailer, while the MS logo and "OrangeYaCurious.com," the address of a Michigan MS info and donation site, on the other.
"MS is a terrible disease and we've been doing our part to help educate and raise funds to help in the battle against it," says Davis. "We've had nothing but wonderful comments about our MS truck and it has driven awareness and donations."
According to Davis, there's been no shortage of volunteers to drive the special T800. "But our choice was easy," she said. "Tom Lavrack, who has been with us since 1986… [has] always been behind our MS efforts and always seems to be first to donate to the cause. When we told him we'd like him to drive the MS truck, he asked if he could take it home with him. He wanted to get it all polished up. He's as proud of the truck as we are."
More information on MS may be obtained at the National Multiple Sclerosis Society website or via the Michigan chapter's Orange Ya Curious (about MS) site.