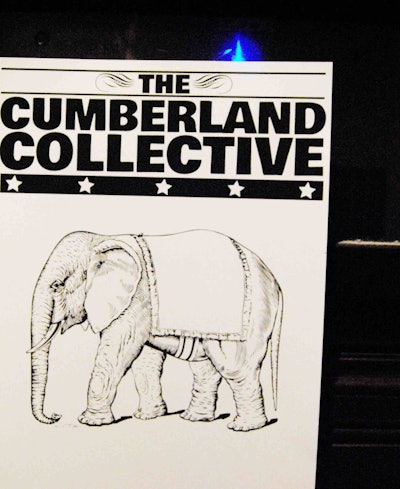 I had the rare opportunity to pay witness to a recording session Wednesday night in Nashville at Blackbird Studios — a group called the Cumberland Collective (a couple of members of which I'm familiar with via the folks-in-their-30s-with-kids-needing-an-occasional-babysitter circuit) had opened up the doors on the 45-track studio to turn the 10-hour session into something of a drop-in-and-hangout affair, inviting family, friends and others.
With several songwriters of widely varying styles among them — principally Mike Willis, Connor Rand, Clay Evans, Jason Eskridge, Noah Collins, Isaac Hayden, Reggie Sullivan and DeMarco Johnson, with engineer/producer Ted Pennington — their music is an eclectic mixture unified by a sophisticated evocation of its American-ness. Tunes range from folk-pop anthems to country, contemporary soul to old-time talking blues.
And in particular, in the tradition of grand road adventure tunes, "Somewhere New," one of the near 20 tracks they laid down — all in a couple takes with up to four guitars (Rand, Collins, Willis,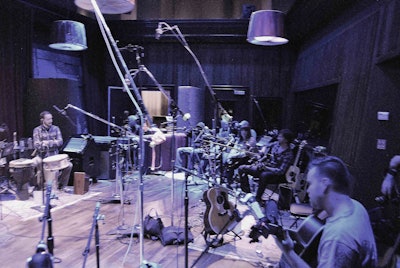 Evans), six-seven singers (Eskridge and most of the others, with guests), keys (Johnson), stand-up bass (Sullivan), percussion — is a just awesome track by Collins, a Chattanooga-based writer and player. When I heard it, though its story begins with a voyage on a jetliner, I couldn't help but think to myself, "This is a trucking song!"
You can see a vid of Collins playing the track solo during a 2009 radio appearance below. It does some justice to the tune, but the collective recording of it, if the sound in the room Wednesday can be any indication, ought to really launch the dynamics. Stellar work, all around. Keep an eye out for published tunes emerging from the session. (You can sample the eight-song "Heart on a Line" solo venture by Collins on his Reverb Nation page.)
The Collective has a standing gig the first Thursday of the month at the Belcourt Taps & Tapas joint in Nashville, and they typically stream it live on uStream if you've got time January 5 evening to tune in from the road. Or if you're in Nashville, stop in and check them out. Find them on Facebook here.
[youtube EM_aGHK7q-8 nolink]
Yeah, I thought you'd like that one….