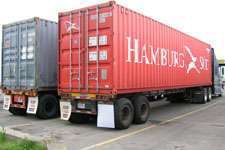 The Occupy Wall Street movement claimed solidarity with West Coast port haulers yesterday in efforts with varying success to shut down ports in Southern and Northern California as well as farther north in the Pacific Northwest. Some port haulers reciprocated the gesture. This "Open Letter From America's Port Truck Drivers," for instance, originating from the website of the Coalition for Clean and Safe Ports, a multi-partner advocacy group, was signed by five port haulers and expressed cautious support for the actions.
These drivers, addressing their letter to the American public, characterized their situation as one of immense pride in their work but increasing frustration with pay and working conditions:
We love being behind the wheel. We are proud of the work we do to keep America's economy moving. But we feel humiliated when we receive paychecks that suggest we work part time at a fast-food counter. Especially when we work an average of 60 or more hours a week, away from our families.
There is so much at stake in our industry. It is one of the nation's most dangerous occupations. We don't think truck driving should be a dead-end road in America. It should be a good job with a middle-class paycheck like it used to be decades ago.
We desperately want to drive clean and safe vehicles. Rigs that do not fill our lungs with deadly toxins, or dirty the air in the communities we haul in.
Poverty and pollution are like a plague at the ports. Our economic conditions are what led to the environmental crisis.
You, the public, have paid a severe price along with us.
But reporting in the SF Appeal online newspaper by Jeff Shuttleworth of Bay City News presented a somewhat different story, as truckers voiced frustration with the blockade at Oakland, on which a reported 600 protestors converged in the early morning, thinning out by midday. Drivers quoted in Shuttleworth's story included a couple with C.R. England and others, such as Jairo Osorio-Enriquez with Capital Intermodal, who noted that Occupiers were "protesting the wrong people." Here's a brief excerpt from Shuttleworth's interview with Osorio-Enriquez:
He said the protesters should be targeting the offices of corporations and politicians, not blocking independent truckers such as himself from doing business at the port.
"They're not doing anything that's affecting politicians or corporations, but they're hurting truckers," Osorio-Enriquez said.
Check out the full story here.
Anyone among readers here see the protests firsthand? Tell us your story in the comments here or email me at tdills [at] randallreilly.com.