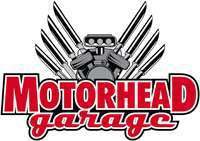 Looking for a little extra wheel maintenance know-how? Tune into Webb Wheel's television debut this morning during a Motorhead Garage TV episode on Fox Sports Network (FSN) Sunday, Dec. 11 at 11:30 a.m., re-airing Monday, Dec. 12 at 4:30 p.m., all time zones.
You'll recall prior appearances of fifth-wheel makers Jost as well as Hendrickson Suspensions, which I've written about on the blog. For this one, says Marshall Boheler, sales and marketing VP, he and product engineering manager Johnathon Capps take viewers and the show's hosts through the critical steps required to properly install a brake drum in a 10-Stud, Stud-Piloted mounting system. They point out the proper procedure to follow when installing the brake drum, eliminating problems for the trucker.
"Webb takes every opportunity to deliver technical advice to the industry," says Boheler. "We understand Motorhead Garage has a significant growing viewership so we wanted to be part of one of their episodes. We believe our demonstration will be very useful to those watching."
Find a brief tease of the episode on Motorhead Garage's Facebook page.