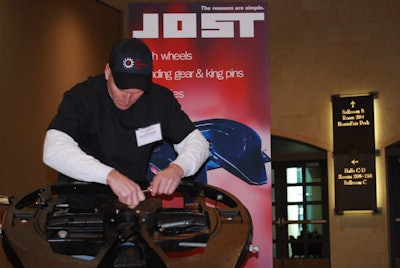 Tune into Fox Sports Network this morning at 11:30 in all time zones for an edition of the Motorhead Garage television series that features Jost International. The segment was filmed October 18 at the Jost U.S. manufacturing site in Greeneville, Tenn., and will air again tomorrow, Monday, Oct. 31, at 4:30 pm.
During the segment, Jost Engineering Vice President Greg Laarman takes show hosts on a tour of the company's fifth wheel technology. The shows features coupling and uncoupling of a combination rig belonging to Big G Express, a Tennessee motor carrier outfitted with Jost fifth wheel, king pin and landing gear.
A tour of the manufacturing facility will also be part of the proceedings, with Jens Polte, vice president of operations providing explanations of fifth wheel wear characteristics and rebuild processes. Motorhead Garage co-host Sam Memmolo carries out a minor rebuild procedure illustrating the ease of maintenance for which Jost has become known. Don't believe them. Check out my vid at the bottom of the post here, in which Gary Fassett of Rush Truck Centers' Twin Falls, Idaho, location dissembles and rebuilds a Jost fifth wheel is around two minutes' flat, part of a competition at Rush's annual Diesel Tech Skills Rodeo I blogged about last year (the winner, Jerry Carpenter, is pictured above).
An overall view of trends within the fifth wheel product segment was given by Rich Carroll, vice president sales and marketing. Low lube top plates and cab actuated air release options now offered on Jost fifth wheels can give fleet operators a lower life-cycle cost and driver-friendly options, Carroll said, also providing Motorhead Garage a view into the company's future plans. Those included the Smart Gap System, expected to help truck owners mitigate tractor-trailer gap aerodynamic drag to meet new fuel-efficiency standards coming down the pike. "As a fifth wheel manufacturer," Carroll said, the company "understands we have an opportunity to help vehicle manufacturers and operators meet the new NHTSA-EPA fuel efficiency standards, so we're taking up the challenge."
Here's that vid:
[kaltura-widget wid="bo5gw8rofs" width="400″ height="365″ addpermission="" editpermission="" /]