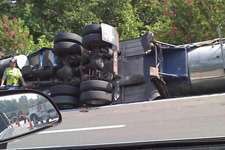 A letter writer to the Chattanoogan newspaper last week proposed to fine drivers of large trucks involved in accidents per hour of required cleanup or per mile of backed up traffic. Specifically:
$5,000 per hour of cleanup or per mile of backed up traffic, whichever is greater, to be paid by the trucking companies, and $1,000 per hour of cleanup or per mile of backup, whichever is greater, to be levied against the truck driver.
You can read his full, though quite brief, commentary here. We've heard stuff like this before, but what might be remarkable in this case is the not-so-brief response the idea garnered. Among the many drivers weighing in I was happy to find was Buddy Wenners, the Nabisco driver who last month famously (and quite satirically) proposed in these halls that an outright ban on truck driving ought to do the trick in impressing upon the imagination of the general public just how important are this nation's truck drivers to its day-to-day life.
Here's a piece of what he had to say to the letter writer: "What you see is the aftermath of an accident, never the truck driver trying to avoid killing the teenie bopper that ran a red light/stop sign because she was busy gossiping with her BFF, or the unannounced lane change by the guy that realizes his exit is next to him and three lanes to his right…."
To check out the full commentary and/or weigh in yourself, find everything at the Chattanoogan's site.
And I'm curious — anybody out there who feels like such a punitive fine, combined with a robust determination of at-fault parties in any given accident and similar fines for four-wheelers, would be a good idea, a safety plus?