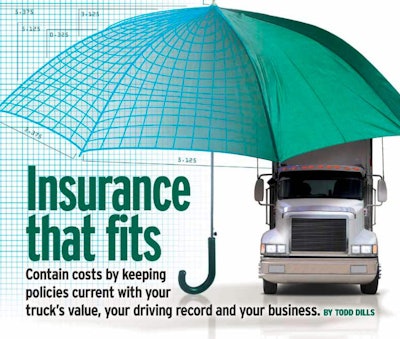 Consumer insurance portal Insure.com recently tracked customer satisfaction by polling users of the site as to their happiness — or lack thereof — with their auto, home, life and health insurers, evaluating these keys areas; customer service, claims experience and value for the price paid. They also asked whether customers planned to renew their policies and whether they would recommend their companies. From there, they built rankings.
Not all of the top ten in the auto category offer commercial auto insurance, but of the top three (USAA, Auto-Owners Insurance and the Hartford), I noted, at least one does. Insurance is well-known to be — after any truck payment — owner-operators' second highest fixed cost category. If you haven't reviewed your rates lately, or if you've had bad experiences with any of your current insurers (including the other personal categories of life, health and home), you might well benefit from the rankings. I've posted the top three in each category below, with links to more complete ranking information. Find more information about the survey generally via this link.
And for a guide to controlling costs for non-trucking-use, physical damage and commercial auto liability, click through the image above for my insurance-costs feature from August last year.
FOLLOWING DATA FROM INSURE.COM
Best car insurance companies
1. USAA
2. Auto-Owners Insurance
3. The Hartford
Best home insurance companies
1. USAA
2. Amica Mutual
3. Chubb
Best life insurance companies
1. Ameriprise Financial
2. TIAA-CREF
3. Transamerica
Best health insurance companies
1. Blue Cross Blue Shield of Illinois
2. Horizon Blue Cross Blue Shield of New Jersey
3. Kaiser Permanente