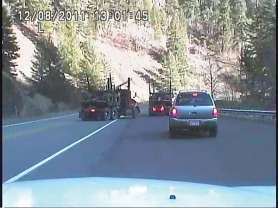 Estacada News reporter Jeff Spiegel spells out the recipe that led to the end of a dramatic on-highway incident in Clackamas County, Ore., last week: "A thrown champagne bottle, a suicide threat, a drawn gun, countless incidents of dangerous driving" and, finally, a few good samaritans hauling logs up ahead.
Check out Spiegel's dramatic account of the incident here, published on the occasion of three log truck drivers' recognition with a citizens' commendation for their role in stopping a drunk driver who led county police on a dangerous pursuit on Highway 224 into the Mt. Hood National Forest. The drivers, Spiegel writes, "Tony Rickman, 39, of Eagle Creek; Earl Dodge, 58, of Maupin, and Tim Hartman, 55, of Molalla," had gotten wind over the radio of the pursuit and engaged in more than one attempt to box in the drunk driver fleeing Sheriff's Deputy Dennis Kispaugh.
Ultimately, the drunks' Dodge Durango's contact with a rear tire of one of the rigs caused them to crash the car, enabling apprehension. Rickman, whose truck the four-wheeler hit, Spiegel writes, was initially "worried that he was going to get an earful from enforcement.
"'I thought we were going to be in trouble, which is what I told the cop at first,' he said. 'I was worried that maybe we weren't doing the right thing and then the collision topped it all off, because I was thinking I had interfered. For some reason I still feel guilty. I wasn't trying to be a hero, I was just thinking, This cop is way up here by himself and what if something does happen.'"