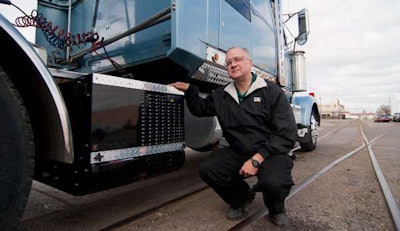 Owner-operator Paul Ahles utilized the Minnesota Pollution Control Agency's program for low, 4 percent financing of auxiliary power units to purchase the APU on his truck today, and as a participant in the program he was featured recently on Minnesota Governor Mark Dayton's blog, available at this link.
Ahles called the choice to purchase the PowerCube APU the "best decision I ever made … I would absolutely recommend getting an APU. The MPCA has been great to work with."
Here's another highlight from the guv's post:
Ahles has used his new APU on an older truck for nine months and estimates he's saving $500 per month in fuel idling costs even after deducting a loan payment and fuel and maintenance costs. Ahles averages about 266 hours of idling per month. Ahles estimates that he'll recoup his purchase costs for the unit after only about a year's use.
The MPCA's program is eligible to Minnesota-based small fleets and owner-operators with these additional criteria:
To qualify, a borrower must:
be an existing small business corporation, sole proprietorship, partnership or association
have less than 50 full-time employees
have an after-tax profit of less than $500,000
have a net worth of less than $1,000,000
demonstrate an ability to repay the loan
in addition, for diesel APUs, truck engine year must be older than 2007.