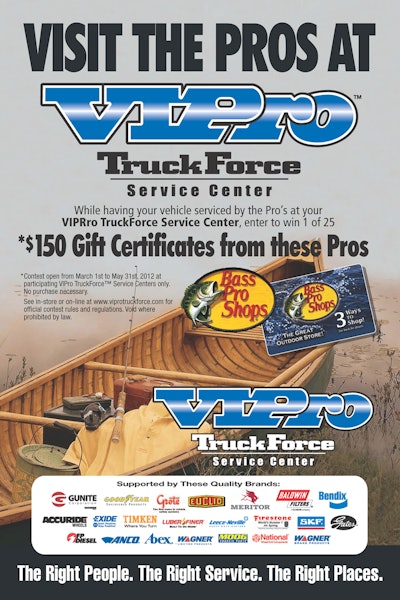 Win Bass Pro Shops gift certificate from VIPro TruckForce network
For the fish-happy among you (weather's been good for it over much of the nation, that's certain), ongoing through the end of May, operators utilizing the VIPro TruckForce network of shops for maintenance can enter to potential win one of 25 $150 gift certificates to Bass Pro Shops. VIPro TruckForce service centers are located "coast-to-coast across the United States and Canada," network reps say, offering "quality products from leading industry suppliers" and "comprehensive tractor and trailer service." To find one in your area of need, check out the search tool on their website.
New Polar facility to service rugged operations in the oil patch
Polar Tank has opened a service center in in Killdeer, N.D., the heart of the Bakken Shale oilfields and one of the fastest-growing oil-producing areas in the country. The new facility is on Highway 22 one mile north of Killdeer and 35 miles north of Dickinson, N.D., and I-94. Open from 7 a.m. to 7 p.m. seven days a week, it provides parts and service for all makes of dry and liquid bulk tank trailers and truck-mounted tank bodies. Contact them at (701) 264-8126. The facility has 4,800 square feet of service, parts and office space, and in May it will double to 9,600 square feet with a total of five service bays.
Other than maintenance service, CHM-183 and DOT inspections will be available. Find a full list of Polar Service Center locations polartank.com.
Steering nuts force recall
On news of a recall of certain 2012 Cascadia and Business Class M2 vehicles by Daimler Trucks North America, a reader couldn't resist adding a bit of levity to the situation. If you haven't seen news of the recall and are driving one of the models (likewise the Western Star 4900), find full info on a total two safety recalls in this news piece.
The Cascadia and M2 recall had to do with, according to the notice sent out by the National Highway Traffic Safety Administration, "steering wheel nuts," a defect with the potential, says Daimler, to cause the steering wheel to not fully seat on the steering shaft, causing potential steering-wheel wobble and compromising safety.
The reader in question observed, "First time I recall a truck being recalled because of the nut behind the wheel."
If only it'd been a four-wheeler, eh?
Daimler will be sending out recall notices this month — if you're in one of the affected 2012 models, find out more about the recall details here.