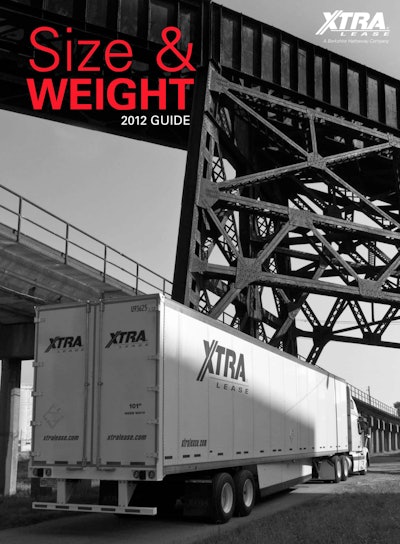 I first came across Xtra Lease's wonderfully comprehensive annual size and weight guide back in late 2010, when covering the grand opening of the company's new Nashville terminal location, following the flooding that made its old location on the banks of the Cumberland River a wreck. The guide is a great resource, not only for size and weight regs. Take a look at the page images posted below for the kind of detail that's available for state permitting contacts and the like within.
The crucial detail here, of course, is that it's available as a free pdf download to the industry via this page. You'll need to fill out a form with basic contact information to get it, but it may well be a good, up-to-date resource for the business.
Here's what Xtra Lease says about the new version:
XTRA Lease produces the free guide annually to provide fleets with the most up-to-date resource material for managing size and weight legal limitations.
In addition, the 30-page booklet offers details for where to:
Register for fuel use tax and order International Fuel Tax Agreement (IFTA) trip permits
Register vehicles and order International Registration Plan (IRP) trip permits
Register for Unified Carrier Registration Agreement (UCRA)
Get hazardous materials/waste permits
Get overweight, oversize permits
The guide provides contact information for state trucking associations and also includes a convenient fold-out quick reference chart for all states.
Get the 2012 size and weight guide here.