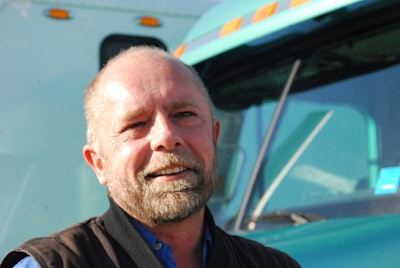 Hensley Inc.-leased owner-operator Jeff Zehrer (pictured), with a Great Dane dry van and Freightliner tractor and a unique line of tool-box systems for owner-operators you may well recall me writing about here back in January, has added yet another patent-pending storage system to the repertoire of his growing Cubby Buddy side business. The business and Zehrer were profiled this month in Truckers News, just in time for the release of the new "Raising the Bar" system for load/logistics bars. The system consists of bracketry that allows for easy horizontal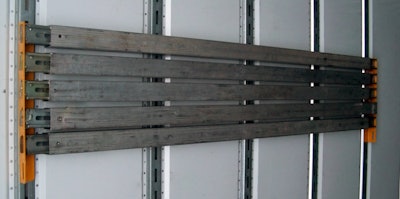 mounting of load bars on the interior walls of different box trailers, as pictured.
In the most recently published Safety Measurement System Methodology document for the Compliance, Safety, Accountability (CSA) program, the severity weighting for failing to secure vehicle equipment such as your load bars is 7 out of 10, or roughly equivalent to some of the more severe tire-related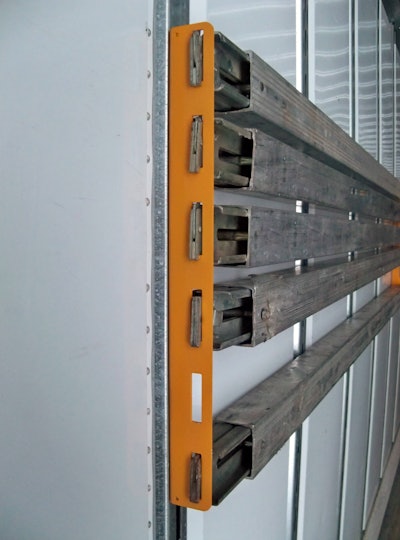 violations. Meaning: FMCSA takes it seriously. Stacking these bars on the floor of the trailer, as Zehrer's seen some operators do, isn't enough to avoid such a violation.
In contrast to existing systems for vertical securement, the Raising the Bar system allows for horizontal placement utilizing trailer interiors' vertical posts. Zehrer says the initial production of the system, of which he sold half at the Mid-America Trucking Show in Louisville two weeks back, is fitting for trailers with vertical posts whose mounting holes are four and/or eight inches off center. He's working on making the system universal for other measurements. Read more about it on the Cubby Buddy/16 Ton Industries website.
And fyi, as Jeff Zehrer's wife and business partner Debbie Zehrer notes, don't confuse Raising the Bar with the existing systems for vertical securement of logistics bars, Yellow Rack and Bar Buddy. Funny coincidence with the name of the latter, considering the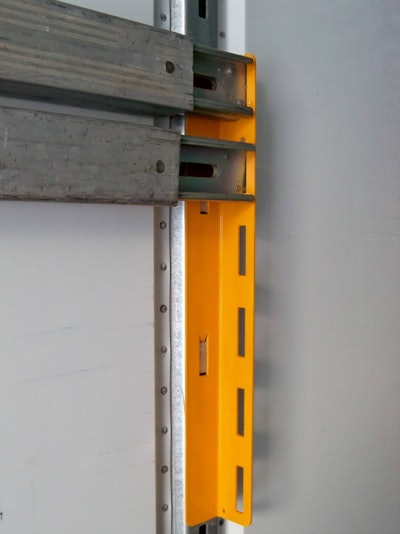 Zehrers' Cubby Buddy toolbox system, eh? The good names always get taken, don't they? Such is life….
Find more about the Raising the Bar system and Cubby Buddy toolboxes here.
And, oh yeah, April Fools! (One day late, I know. For those who read the post here on Channel 19 and Overdrive Extra yesterday, thanks for your good humor and, in some cases, for playing along. Hope it all provided some light-hearted moments in your Sunday reading!)