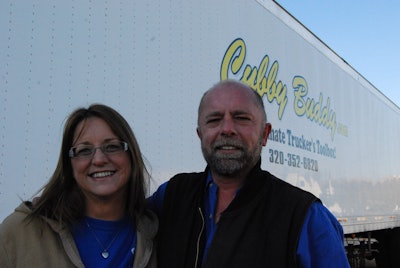 I've written about the toolbox before, which you may remember. Since then, says Debbie Zehrer, wife and business partner of owner-operator Jeff Zehrer (both pictured), the Cubby Buddy toolbox system has added models, with a total 10 to choose from. If you've been looking for a good system for your truck, you can give them a look at CubbyBuddy.com.
I had the great opportunity yesterday to talk with Jeff and Debbie. Leased to small fleet Hensley Inc. out of Osakis, Minn., the pair were reloading in Nashville en route to the Midway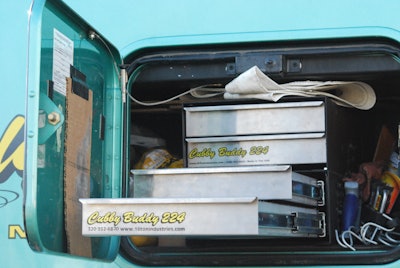 Truck Plaza on I-70 near Columbia, Missouri, for Terry Wooley's show tomorrow, where they'll be on hand to talk to interested drivers about the toolbox.
Find a vid in which Jeff shows off the toolbox prototype (the seventh one ever made, Debbie says) mounted in the cubbyhole in the side of his 2003 Freightliner Century. Since that prototype, the Zehrers have moved more than 1,000 units in less than a year of business, clear indication of the need for the convenient system.
Enjoy the vid, and look out for more from the Zehrers in the coming months in Overdrive and Truckers News. Say hi for me if you see them tomorrow, too, of course, likewise the folks at Trucker Charity, Operation Roger and other industry organizations taking part in the 12:30 p.m. event. More about the free concert is here.
[kaltura-widget wid="c6rjrues7o" width="400″ height="365″ addpermission="" editpermission="" /]