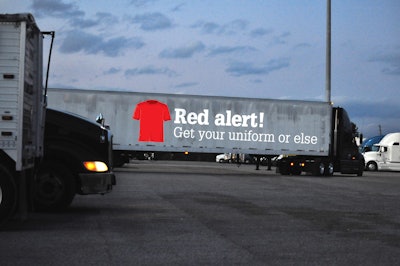 Now that the Federal Motor Carrier Safety Administration has begun to reach its long regulatory arm into your daily dress, drivers are sounding off in record numbers.
"This is just taking it too far," said owner-operator Bob Mandible of Blue Gill, Ohio, of the new red shirt requirement, joining the fast-growing chorus. "The agency has produced no evidence proving I will be less safe if I just wear my standard brown Dickies work shirt rather than this gaudy thing."
At once, he'd already gotten his well ahead of the 2013 deadline, hoping to avoid forecast red-shirt shortages with an expected flood of last-minute buyers.
The choice of red, as of this writing, was being applauded by safety advocates, and FMCSA had provided "expert" testimony from artists as to the symbolism and connotations implied. "We believe requiring these shirts will enhance the long-term health of drivers by keeping them out of harm's way," an agency spokesperson said.
No word yet on whether this will come up for public comment.
And if this is the first you've heard of the new requirement, find more via my Twitter feed. Send thoughts and I'll relay them to the authorities — be sure to use hashtag #truckingaprilfoolsday in any commentary.
RELATED:
'I am so sick of 18-wheelers!'