Motorhead Garage TV to feature International dealerships this morning

Diamond Companies, a holding company for International Truck and IC Bus dealerships in Tennessee, Arkansas, Missouri and Kansas, will be featured on a special "Big Rig" episode of the Motorhead Garage TV Series on the Fox Sports Network. The episode airs this morning at 11:30 a.m. Eastern and again Monday, May 7, at 4:30 pm Eastern.
Hosts Sam Memmolo and Dave Bowman visited Diamond International of Memphis, taking a tour through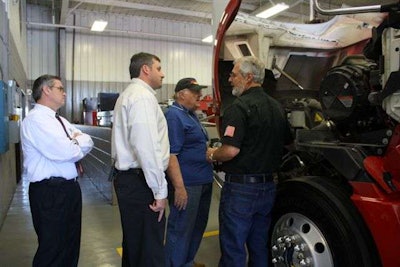 the proprietary MaxxForce engine and the shop's operations, talking with shop staff and customers both. Give it a look this morning.
$100 off apnea home test available through end of May
The more regulators mull over sleep apnea and whether to regulate the condition (the latest, FMCSA's "apnea trial balloon that went off like the Hindenburg," as one operator had it, here), the more it is part of the general conversation surrounding health among drivers. Many believe that docs/sleep labs are jumping into driver testing and treatment with both feet, seeing a coming captive audience.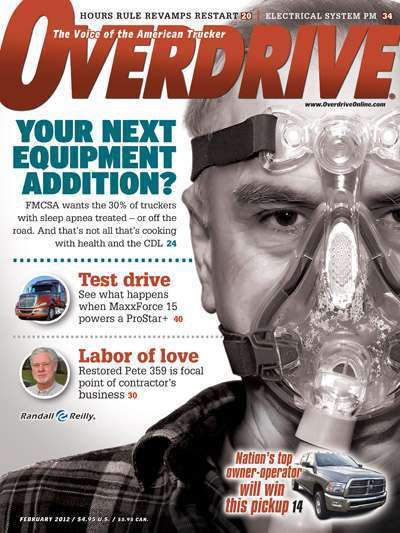 At once, though, some providers are attempting to address the expensive realities of in-lab apnea testing with at-home options and alternative treatments.
One such provider is Aviisha Medical, based in Thousand Oaks, Calif., who's reached out lately with information on a discounted at-home test that will be available through the end of May with a $100 price cut — for a total $350 — for commercial drivers. It's part of a promotion in conjunction with National Better Sleep Month, the company says.
"A driver can place an order through our site without a prescription," says company rep Edahn Small. "Once they place an order, we make a phone call and get their insurance information and check to see if they have a prescription," which the company will need to fill an order. "Drivers can get a prescription from their own doctor as they normally would," Small adds.
You'll need to use the "DriveSafe" promotion code to get the discount, fyi, via this page. Drivers in California can get a free "telemedicine" (video-conference) appointment, too. "The telemedicine appointment is an online appointment with our Sleep Physician, and if needed, our physician can write a prescription for the driver," Small says. "We also have doctors we work with in Washington, Oregon, Pennsylvania, Arizona, Nebraska, Iowa, and Texas who can do the telemedicine appointment for $50."
Again, if desired and/or needed. We've heard numerous reports of drivers being told by medical doctors that sleep apnea screening is a requirement written into the regs for certain conditions — not a reality as yet, though if there's a good chance you have the condition, you'd do well to get it checked out. Thoughts? Keep 'em coming.