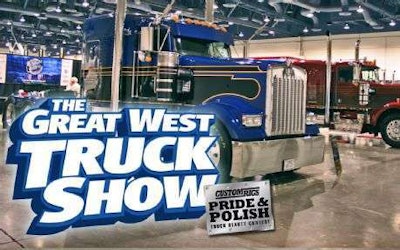 The Great West Truck Show gets going today out in Las Vegas, running through Saturday with vendor exhibits, the Custom Rigs Pride & Polish competition, CCJ's Fleet Executive Conference (under way as of yesterday — some news here from the first panel on challenges and opportunities trucking the rarefied California environment of late) and more.
Follow Overdrive's Twitter feed @OverdriveUpdate — and our Facebook page — for views from the show. Associate Editor James Jaillet, among others, is on the scene and has shared a couple pics already during set-up yesterday — one of the amazing "First Gear" 2005 379 of Kentucky tank fleet First Class Services' owner Randy Stroup.
If you're at the show, use the hashtag #GWTS12 on Twitter for any of your show-related updates to contribute to a live feed we'll be running over the three days of the event via the main page — it's still under construction, but should be live by the time the show proper gets going at noon Pacific time today.
Here's a link to information about the free on-site truck parking that's available for those passing through who want to make an appearance.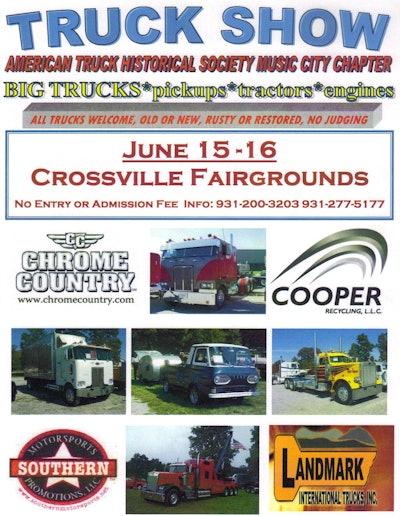 RELATED: Tomorrow I'll be traveling east from Nashville to Crossville, Tenn., for one of the annual truck shows of the Music City Chapter of the American Truck Historical Society. The show at the Fairgrounds there at 1398 Livingston Road, Crossville, TN 38555, gets going at 8 a.m., through 5 in the afternoon (it also will be in full swing on Saturday, June 16, same hours).
If you're traveling along I-40 and have time to stop in, let me know here or on Twitter; it'd be great to meet! I ought to be there through around 3:30 or later in the afternoon.
Keep an eye on the blog through the next week for eye candy from the show — ought to be plenty of great custom and classic trucks to fill up several weeks' worth of blogging.