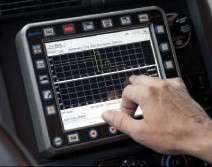 The mandate for interstate carriers in the United States to use electronic onboard recorders for hours of service tracking that is in the Senate's two-year highway bill proposal — S. 1813, currently in conference with a House six-month temporary reauthorization and experiencing no shortage of debate — got a little push from a few big players in trucking legislation yesterday. Namely, the American Trucking Association and the Commercial Vehicle Safety Alliance, along with the American Automobile Association and Carbon Express. Their message to Congress urged legislators to adopt the Senate language to mandate EOBRs.
They claimed that "trucking, safety, and law enforcement interests are united in their support of an Electronic On-Board Recorders (EOBRs) requirement" because of the positive impacts EOBRs have on safety, compliance with hours of service regulations, and efficiency.
But I haven't heard much unity on that score myself. Have you? If anything, a sizable majority of the owner-operators I speak to throughout my day-to-day reporting continue to object to an EOBR mandate.
Former flatbedding owner-operator Don Lanier, based in Alton, Ill., and today leased with a Freightliner straight truck to expediter J.D. Clark Logistics out of Clinton Township, Mich., says he's never had to run with an EOBR himself, but has "heard good and bad," he says, from other operators. "Some say guys don't want them so they can cheat, but with today's CSA and roadside inspections and weigh stations getting tougher, that's a fool's game. I don't personally want to be tethered to one. It's intrusive, and 'Big Brother' has enough on his hands just keeping the Congress working, let alone me."
There is of course guarded support for a mandate among some operators, too, which we've written about fairly recently — recall Tom Blake's contention that an EOBR mandate may well help solve the excess detention problem at shipper and receiver facilities.
But generally, following the lead of the Owner-Operator Independent Drivers Association, many remain opposed on various grounds, from privacy rights to objections to the cost of the devices, though there is a lot of variability in the latter, with some no-up-front-cost solutions such as Xata's.
Wherever you stand, I imagine now is as good a time as any to make it known to your Senator and/or Congressperson about it. ATA, CVSA, AAA and others are certainly doing that.
Here's a link to a video headed "Safety is not debatable" they provided to Senate/House conferees on EOBRs.