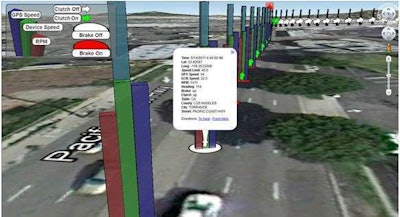 The PeopleNet company announced two weeks back that it had integrated some of the onboard data-recording capabilities of its EOBR units with Google Earth in order to provide back-office staff a bird's eye, 3-D-type view of critical events. Check out the picture here, which appears to show acceleration/braking on a right-hand curve.
"In direct response to demand, we've given customers a ground level view that lets them "drive" the Onboard Event Recording event from point to point using the Google Earth view," said Vice President of Software Jim Lowell. "Detailed map information is available about where the event triggered and the speed recorded during each second of the event, which paints a clearer picture of how the occurrence unfolded."
One of the most valuable uses for PeopleNet's new view of an Onboard Recording Event, the company says, is in the case of an accident. The safety manager can quickly and easily see exactly where an event happened with the aid of a Google map, including the location of a sudden acceleration or deceleration. This information could also be helpful during litigation, as well as for driver training and correcting unsafe driving behaviors.
I wonder what kind of view it gives for other critical events — such as the 2 a.m. wake-up call from night dispatch…