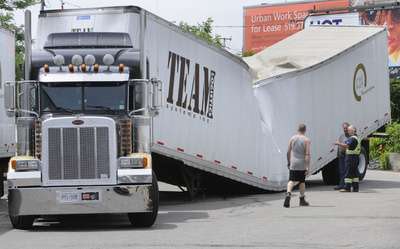 U.S. patriots living in Canada will no doubt be bummed by the news today: Click through the thumbnail of the pic here by Mathew McCarthy of The Record newspaper of Kitchener, Ontario, in Canada, for a story about this collapsed trailer loaded with beer outside the Beer Store on King Street in the same town.
The paper reported the store was "undergoing mold abatement" and was moving stock to the trailer for the time being.
As one commenter on the story noted, though the trailer being used for storage was required to abide by the on-highway GVW limits, they're noted in the equipment specs for a reason: "The structural integrity of the trailers plainly won't handle these types of weights. I once had a customer using a trailer as on-site storage, and it too not only had the landing gear go through the floor, it started to 'run away' across his parking lot as the spring brakes aren't designed to hold over 150,000 pounds!"
Find more commentary on the story here.