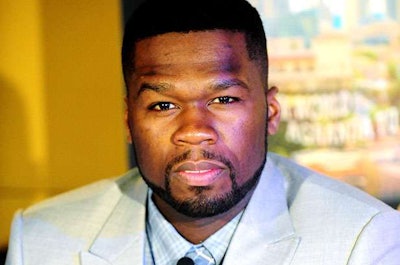 Over on the Juice blog at Billboard's website, word is rapper 50 Cent (pictured) collided with a Mack truck on the Long Island Expressway after the driver's load shifted, causing him to lose control of the rig. (The driver was OK.)
Many of you may remember 50's "In Da Club" record from 2003, whose rolling rhythms were near inescapable from the windows of all manner of vehicles for years following.
But 2003 also happens to be the year referenced at the beginning of a track perhaps more appropriate for this blog — by a rapper who at the time was being left in 50 Cent's rear view, Kool Keith. His "Mack Trucks" track begins with a shout out to all the truck makers (circa the mid-1970s, with White Freightliner and GMC included in the litany, and leaving out Kenworth — sorry, W900 fans — Keith being something of hip-hop pre-eminent surrealist, I'd say). The chorus: "Mack trucks, big wheels roll…"
The track was part of the 2004 "Official Space Tapes" double disc, with classic Keith tracks remixed by DJ Junkaz Lou and never-before-released tunes, like "Mack Trucks."
Keith may be best remembered for his Dr. Octagon alter-ego of the mid-1990s. Here's a link to "Earth People," the best known of the Octagon tracks.
In any case, with continued interest from hip-hop and noise-pop aficionados to this day, I'd say Keith's long-term star's likely caught and passed — if not collided with — 50 Cent's. Big wheels roll…