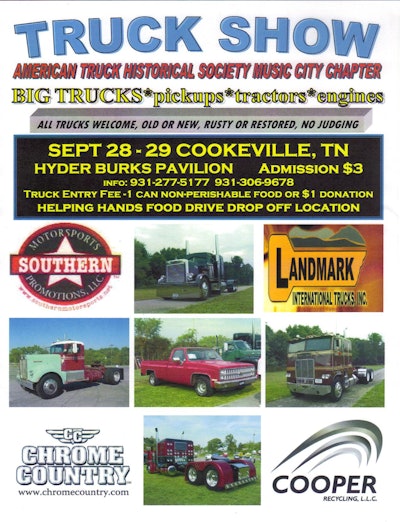 In addition to the Great American Trucking Show coming up next month (owner-operators can renew their Overdrive subscription or subscribe anew via this page to be entered into a sweepstakes to win an expenses-paid trip for two to the big event in Dallas), a little advance warning here on two other events.
The Music City Chapter of the American Truck Historical Society's next event takes place Friday-Saturday September 28-29 in Cookeville, Tenn., with a truck entry fee for the show of $1 or a can of non-perishable food that will go to the Helping Hands Food Drive.
The Music City Chapter folks and the regional owner-operators they attract to their gatherings are great sources of good vibes and awesome trucks. Don't believe me? I'm still writing about the rigs I caught at the last one — find my latest post from their June Crossville, Tenn., event for two impressive 1980s Peterbilt cabovers here.
Event details:
Hyder Burks Pavilion
Cookeville, TN
September 28-29, day hours
General admission: $3
Second Annual Truck Driver Social Media Convention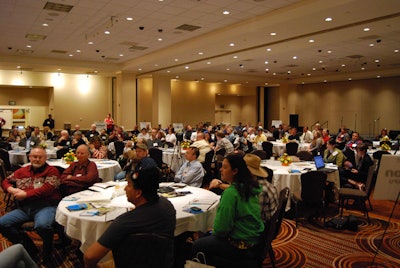 A definite sense of involvement in something big was one of several outcomes of last year's first social media event put on by the folks with Truth About Trucking and AsktheTrucker.com last year. If you're a regular reader, you may well recall my reporting from the conference and later, as subsequent ripple effects were felt around the industry.
This year's event stands to be another great opportunity to gather with fellow drivers and owner-operators for serious discussion of how just to push the industry for the better.
Presenters this year at Harrah's in North Kansas City Oct. 27-28 (and don't miss the big-tent event-wide roundtable) include:
Elaine M. Papp, the Division Chief of the Office of Medical Programs at the Federal Motor Carrier Safety Administration.
Chris Voss, founder of Strategix One Consulting and one of Forbes' Top 50 Social Media Power Influencers, on how to incorporate social media toward personal and business goals.
Kylla Leeburg, co-founder of Truckers Against Trafficking, discussing what you can do to combat domestic sex trafficking.
Also, back after great presentations last year, both regulatory expert Richard Wilson and Paul Taylor of the Truckers Justice Center will be on hand.
You can register for the event ($99) via this page.