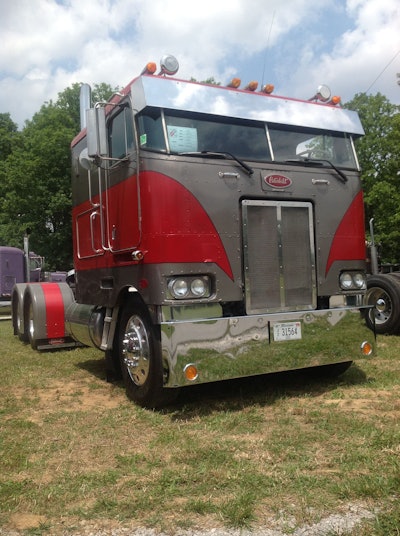 Dustin Kunkel, owner of Kunkel Welding in Crossville, Tenn., bought this 1988 Pete 362 in March of 2011, pulled it into the shop and called a couple of friends over. Twelve hours later "we rolled it out" with the frame stretched 48 inches to a total 223 wheelbase, Kunkel says.
He bought it from a friend in the area who was convinced he was facing either an entire rebuild or replacement of the 425-hp Caterpillar engine (whose power moves to the drives through a 13-speed tranny).
Turned out, says Kunkel, the problem was a pin that had popped out of a piston and was rubbing the liner, an easy fix for him. It's "one of those stories you hear about and wish it would have happened to you," he says of finding the rig.
Among other mods are the paint job, which Kunkel laid on himself, likewise the custom-fabricated fifth-wheel cover, among other things.
Kunkel put in the custom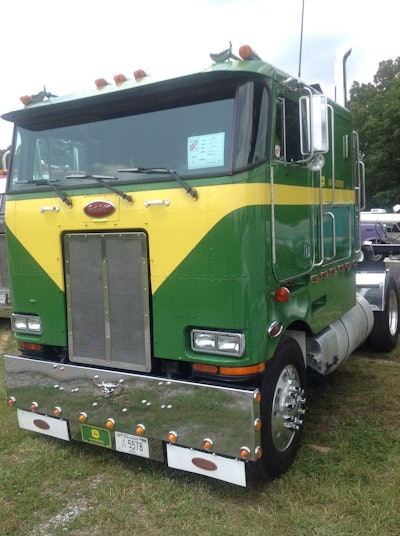 headlights, too, which were originally the squared-off version common in Peterbilt units from the late 80s. He "put in the vintage rounds," he says, then set the "blinkers in the bumper." Detail below.
Today, the unit runs good as new, toting equipment locally.
We caught it at the American Truck Historical Society Music City Chapter's truck show in Crossville, Tenn., last month, along with this "John and Jane Deere" 1984 362 cabover, owned by Jason Hubbard and powered by a 350 Cummins and 13-speed transmission.
Hubbard, who hauled livestock up until a few years ago, sells real-estate today, in addition to running the family farm. He uses the truck only sparingly, hauling some hay around the farm and other tasks. Enjoy further shots of both rigs below.